▲ Designation of a new construction technology for the first time in Korea for 'Reinforced Precast Double Wall Compound Method'
▲ OSC technology combining factory manufacturing and on-site assembling, expected to reduce construction period by more than 30%
▲ By simplifying the process, safety-related accident is reduced and durability is improved, boosting seismic performance
▲ Easily adjustable molding combined with 3D modeling ensures both quality and efficiency
Hyundai E&C jointly developed the "Reinforced Pre-Cast Double Wall Compound Construction Method" (hereinafter "PC Double Wall Method"), which has been designated as a new construction technology (No. 920) by the Ministry of Land, Infrastructure and Transport. The new construction technology designated by the Ministry of Land, Infrastructure and Transport is significant in that it can gain an exclusive position in the construction market, based on the assessment that the technology is the first in Korea, progressive or easy to apply on-site.
The PC double wall method is part of the OSC (Offsite Construction) technology that shifts from conventional on-site production to factory production, and two interconnected precast (PC) walls are manufactured in the factory and then transported to the site to form a single wall by connecting the two PC walls. Hyundai E&C expects to reduce safety-related accidents by simplifying the process as well as streamlining operations and shortening the construction period by about 30% compared to the existing construction method through on-site application of the construction method. As a result, as the durability of the concrete wall is improved, it is possible to enhance seismic performance and secure quality in the areas vulnerable to leakage.
Hyundai E&C has been verified for its structural performance through technical certification by the Korean Structural Engineers Association and has completed four related patent registrations. The production of PC Double Wall takes place at an automated production plant equipped with an integrated management system based on Building Information Modeling (BIM). The BIM-based production process does not require a standardized mold(formwork), helping to ensure superior quality and production efficiency.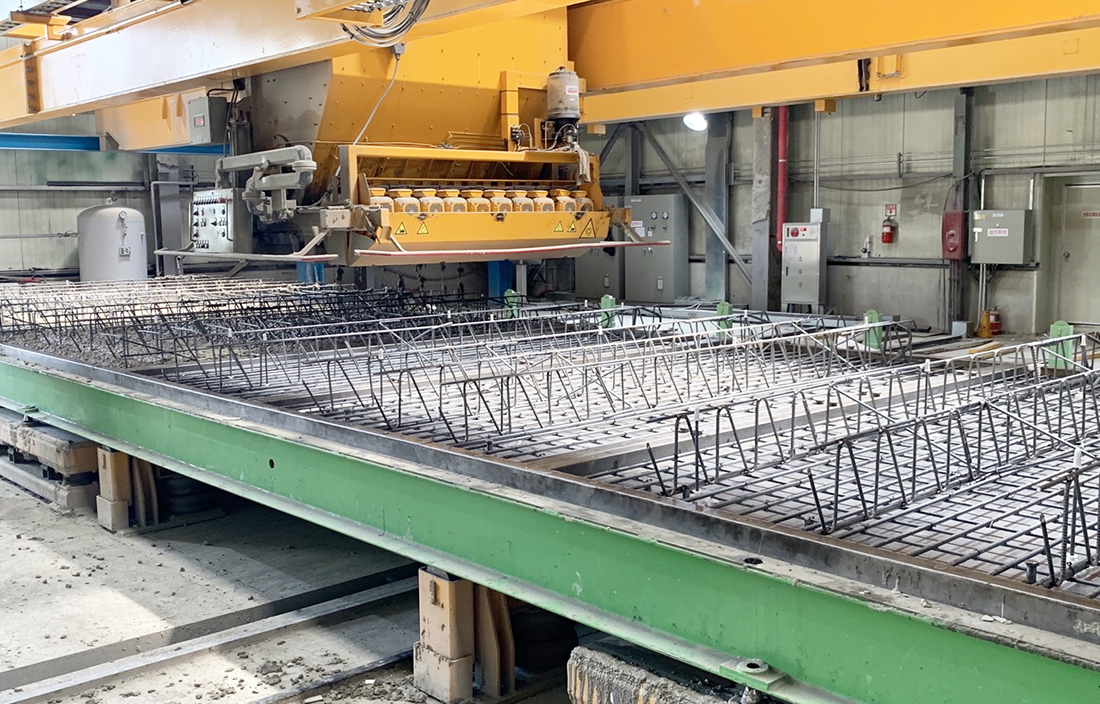 [ Factory Production of PC Double Wall ]
[ On-site Construction of PC Double Wall ]
Hyundai E&C has already begun applying the PC method to the outer wall of the basement parking lot in 2015 and is expanding it to a PC construction method that simultaneously constructs two basement floors. With this achievement, it was able to newly develop and apply the PC double wall method to apartment basement floors for the first time in Korea. In the future, Hyundai E&C plans to continuously develop the OSC technology to maximize quality, safety, and required performance of construction production methods to improve the efficiency of its projects.
An official from Hyundai E&C said, "The importance of OSC is emerging due to the recent aging trend of construction workers," adding that, "We will actively introduce advanced robots and AI technologies in line with industry 4.0 in the future to address the issues of safety-related accidents and efficiency."