▲ Based on established trust by successfully implementing projects in Saudi Arabia, demonstrating the prowess of K-construction surpassing world renowned companies
▲ Construction market in the Middle East recovers with increasing global oil prices, leading to anticipation in more high-quality overseas projects
Hyundai E&C was selected as a partner of the Saudi Arabian Oil Company, or Saudi Aramco, for a mid-to-long term growth project, enhancing the prestige of K-construction and laying the foundation to revitalize a boom in the Middle East.
On July 5, Hyundai E&C was officially announced as a partner in engineering, procurement, and construction in a mid-to-long term growth project pursued by the world's largest energy company Saudi Aramco at the agreement signing ceremony held at the company's headquarters located in Dhahran, Saudi Arabia. Hyundai E&C will be establishing a joint venture with a local partner to take part in Saudi Aramco's project.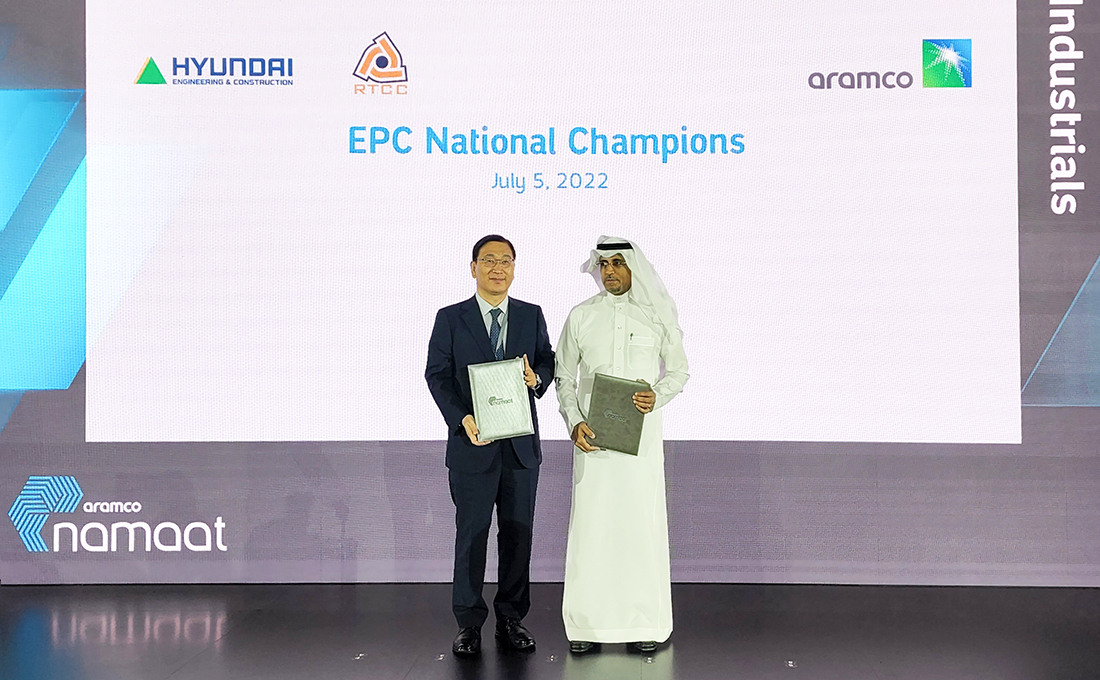 Top management of three companies attended the agreement ceremony, including Hyundai E&C President Yoon Young-Joon, Al-Rashid Trading and Contracting Co. (RTCC) Chairman Rashid Saad Al Rashid, and Saudi Aramco CEO Mr. Amin Nasser. It is being interpreted that Hyundai E&C is recognized for its capability and technology in implementing large-scale plant construction projects in Saudi Arabia for more than four decades, which was the key to being selected as one of the few construction partners for the project from across the world.
Under the agreement, Hyundai E&C plans to carry out major projects being implemented by Aramco through this new joint venture, and to promote win-win cooperation and localization strategies such as fostering local EPC companies in Saudi Arabia and expanding the recruitment of local manpower for successful project execution.
Saudi Aramco is the world's largest energy company in the globe. It is known as the world's largest company in terms of project implementation, pursuing large-scale state-led projects. Saudi Aramco has signed MOUs with partner companies to conduct core projects in the four areas of sustainability, technology, industry and energy service, and advanced materials through its mid-to-long term 'Namaat' industrial investment program.
An official at Hyundai E&C said, "this agreement is a meaningful accomplishment achieved through the technology, project capability, and a longstanding relational trust built with Saudi Aramco by successfully implementing projects of Saudi Aramco since Hyundai E&C entered Saudi Arabia" and added, "we look forward to establishing a strong presence in the Middle East by ensuring a stable pipeline of large-scale petrochemical plant projects as we anticipate more projects in the mid-to-long term. And we will take the opportunity as a steppingstone in winning more overseas projects."