▲ Showcasing global leading expertise in building a world-class system of managing and operating BIM organization and information
▲ Securing competitiveness of smart construction technology through BIM organization and applying it to the global expansion of construction and civil engineering projects
… Expansion of BIM application to the IDC (Integrated Data Center) in Daegu and Singapore's North-South Corridor Project
…Enhance the operational efficiency and competitiveness of BIM projects with introduction of BIM-based collaboration system
▲ Accelerate smart construction by internalizing and spreading BIM capabilities that meet global standards
Hyundai E&C obtained ISO 19650:2018 certification, an international standard in the field of BIM (Building Information Modeling) from the BSI (British Standards Institution) on July 15th.
* ISO: International Organization for Standardization. Established in 1947, it is a global coalition of national organizations for standardization, consisting of representatives from more than 100 countries.
ISO 19650 is a standard related to the BIM information management operating system published in 2018 and was established by BSI, a founding member of the ISO (International Organization for Standardization).
* BIM: Building Information Modeling. It is a digital model that provides a reliable basis for decision making throughout the life cycle of a facility based on the physical or functional characteristics of the facility object in all areas of construction, and work procedures required for model development.
The certification ISO 19650 is granted only when the results of rigorous validation and inspection processes for global standardization are successful: for internal documents (guidelines, processes, etc.), executive/staff interviews, and project track record, based on requirements for BIM information management and operation and collaboration capabilities. Accordingly, Hyundai E&C obtained the ISO 19650 certification as a lead appointed party, and has thereby received an official international certification for its world-class BIM information management capabilities, standardized technology, quality control and specialized technology organizations across the entire cycle of a construction project from bidding, design to construction.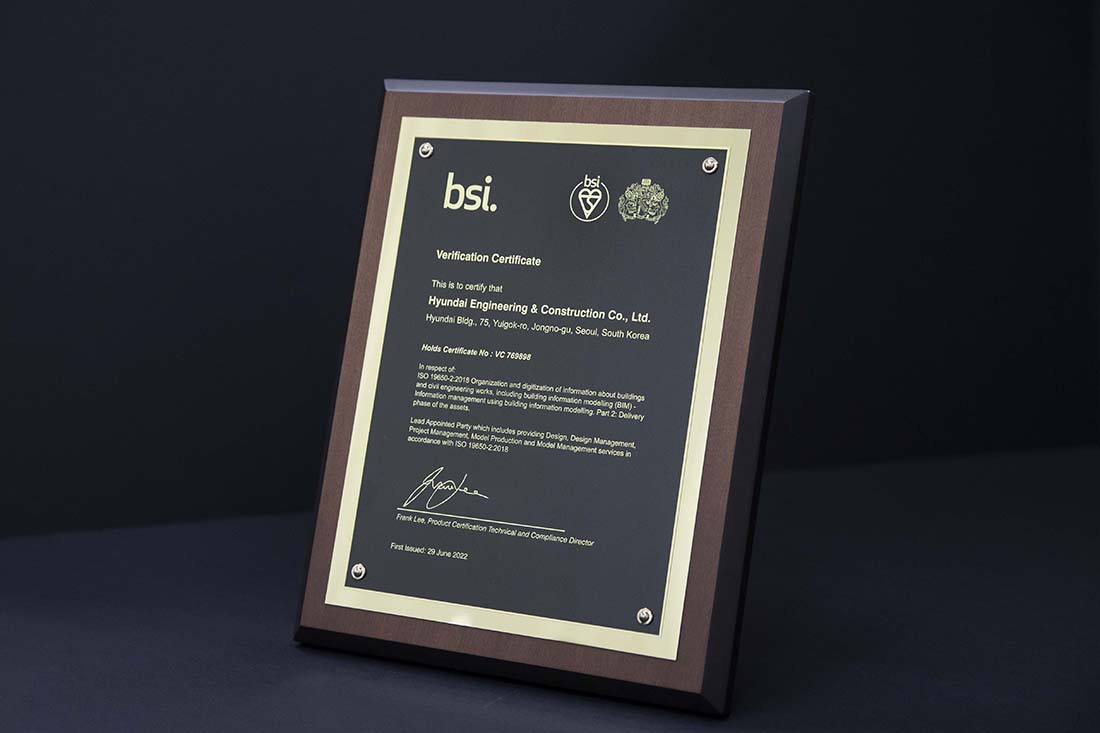 Currently, Hyundai E&C is expanding BIM applications to various domestic and foreign sites including the IDC (Integrated Data Center) in Daegu and North-South Corridor N113 and N115 in Singapore, and plans to introduce a BIM-based collaboration system at building and residence construction sites including data centers, which will start construction in the second half of this year, to strengthen operational efficiency of BIM projects.
An official from Hyundai E&C said, "We have established a BIM strategy and built technology support and process for receiving and executing orders, centered on the BIM organization within the construction and engineering business division, and will also carry out domestic and global projects in a coordinated manner," adding that, "Hyundai E&C, through internalization and spread of BIM capabilities required by the global markets, will accelerate smart construction to innovate the construction sector."
Meanwhile, with the latest ISO certification, Hyundai E&C holds a total of seven ISO international certifications including △ Quality Management System (ISO 9001:2008) △ Environmental Management System (ISO 14001:2015) △ Energy Management System (ISO 50001:2018) △ Quality Management System in Petrochemical and Natural Gas (ISO/TS 29001:2020 △Safety and Health System (ISO 45001), and △ Anti-corruption Management System (ISO 37001:2016).