▲ Development of On-Site CCTV Image Analysis System
... Constructing training data specialized in the construction sector through video data of Hyundai E&C construction sites
... Screening of data and scenarios that can reflect the reality of safety management at construction sites
... Detecting and preventing real-time risk factors with on-site CCTV interface
▲ Development of Real-Time Monitoring System for Ready-Mixed Concrete Quality
... Real-time monitoring using smartphones to check defectiveness of ready-mixed concrete
▲ Securing AI core technologies through various researches and developments in the future
Hyundai E&C is accelerating smart construction management by developing AI (artificial intelligence)-based construction site video analysis technology and registering patents
In general, AI for video analysis applied to construction sites is developed by asking AI-specialized companies in the areas of video data collection, training and development of AI, and as for the latter, they have used public data to date, as they struggle to understand the specificity of construction sites and access the real on-site imaging data.
Due to this reason, application was easy for industrial sites with stable working environments, but more difficult for construction sites where the working environment varies depending on the progress of the construction, more particularly in the safety sector with few relevant cases.
In order to address these challenges, Hyundai E&C internally built an "On-site CCTV Video Analysis System" with AI-trained data specialized in the construction sector through various video images collected at Hyundai E&C sites.
[ On-site CCTV Video Analysis System - Safety Violation Detection and Alarm Alert ]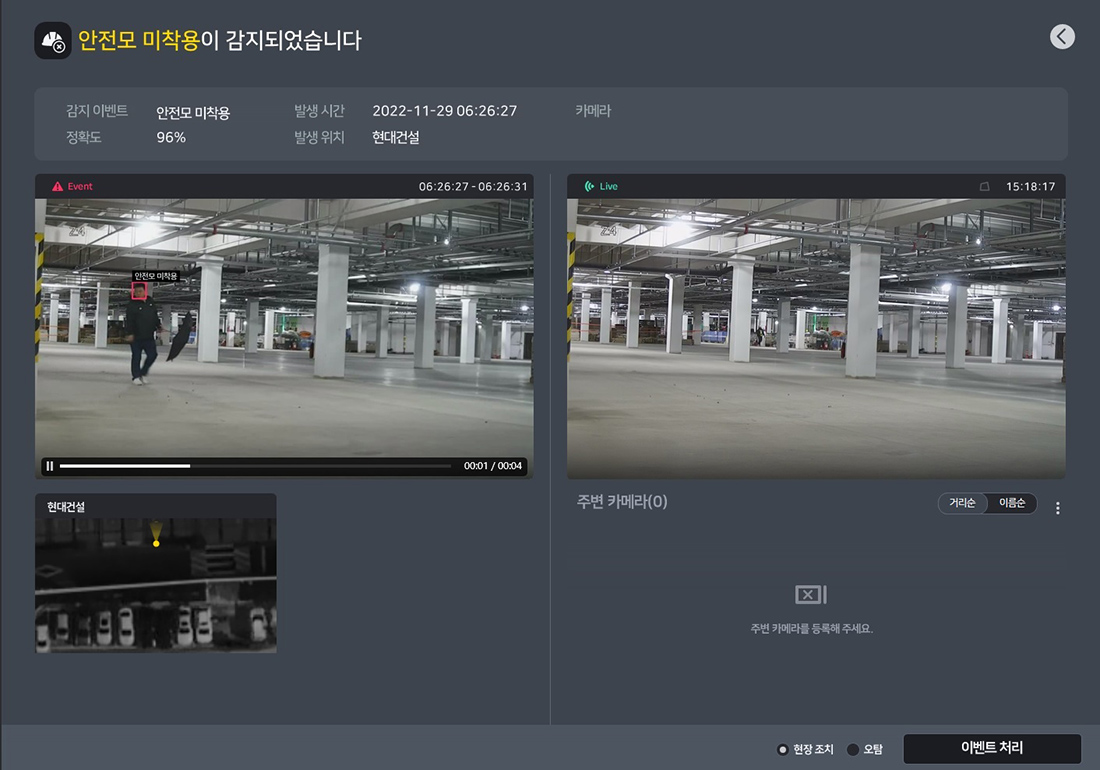 [ On-site CCTV Video Analysis System - Location of On-site Camera and AI Analysis Status ]
Hyundai E&C collected video images to develop a "on-site CCTV video analysis system" and selected data and scenarios that can reflect the reality of safety management at construction sites.
Data and scenarios for on-site safety management were selected in line with the construction safety-related laws and standards, and virtual data including 3D graphics were used for videos of fires at construction sites, which are difficult to obtain.
Based on this, training data, including more than 2 million working objects such as construction equipment, workers, flames, and smoke were built, and a 'on-site CCTV video analysis system' was developed by integrating them with technologies of AI companies.
The Hyundai E&C-developed system is a technology that enables AI to detect the location of workers, construction equipment, and fire risk factors in real time and prevent risks in advance.
AI analyzes images transmitted through CCTV in real time, identify and prevent at-risk distance of stricture accident of equipment, by detecting construction equipment, signalman, and guidance staff.
In addition, based on the posture estimation algorithm, it is possible to thoroughly manage safety in the workplace by detecting major joints and actions of the head, hands, and neck of the worker and recognize dangerous movements.
Hyundai E&C has recently applied its latest AI model by remotely connecting CCTV images and completed performance verification. In the future, it plans to supplement the effectiveness of various site-specific scenarios and apply them to domestic sites.
In addition, Hyundai E&C has devised and registered a patent for the first time in Korea for securing the quality and safety of ready-mixed concrete using a smartphone and has lead quality management on sites using AI by developing a commercialization system in cooperation with IT companies.
The technology, developed by Hyundai E&C, is a system that can monitor concrete discharged from ready-mixed concrete vehicles in real time using a smartphone and check the defectiveness of the ready-mixed concrete.
First of all, ▲ a camera photographs the ready-mixed concrete discharged from the cement mixer truck, ▲determines whether the ready-mixed concrete material can be separated by comparatively analyzing AI-shot images with pre-learned images, and ▲automatically generates an alarm through the system in case of defect to stop concrete placement.
Hyundai E&C plans to upgrade this technology to an integrated solution that can easily manage quality of structures at construction sites, by integrating it with various technologies such as existing concrete crack diagnosis algorithm*.
* Concrete crack diagnosis algorithm: Hyundai E&C's existing technology, whose algorithm inquires the area and location of the crack, the time of crack, and concrete placement information when a concrete crack occurs. When the inquiry is processed, the program will also provide a report including countermeasures based on the root cause analysis.
Meanwhile, Hyundai E&C has been accelerating efforts to conduct various researches and developments to lead AI technologies in the construction sector, ever since it established an organization dedicated to big data/AI within Hyundai Institute of Construction Technology in 2018.
In the future, it plans to develop core AI technologies that can be applied to construction sites through various research and development, expand their applications, and gain an upper hand in the AI-based construction sector.
A Hyundai E&C official said, "As smart construction applying advanced technologies develops day by day, its importance and utilization at construction sites will grow further," adding that, "We will continue to secure and utilize quality data suitable for construction sites and lead AI technologies in the construction sector."