▲ On the 13th (Tue), Ceremony Was Held to Commemorate Mega TBM Project at the Han River Tunnel Gimpo-Paju Section 2 Site
... Excavation of 2.98km Han River Tunnel Connecting Gimpo and Paju with Korea's first-ever 14m large-section Shield TBM
... Securing safety and efficiency of construction with advanced technology-based Slurry Shield TBM method
▲ Hyundai E&C Will Set New Milestone in Tunnel Construction with Cutting Edge Equipment and Smart Construction Technology
... Hyundai E&C owns the world's first test equipment and a number of patents… Establishing a leading position in the global tunnel construction project
... It will take the lead in transforming the tunnel construction paradigm by applying exclusive technology know-how and smart technology
Hyundai E&C will initiative construction by applying cutting-edge TBM machine to road tunnel construction crossing the Han River for the first time in Korea.
Korea's leading builder held a ceremony to mark the excavation of the nation's largest section shield TBM at the site of the Gimpo-Paju Construction Section 2 of Expressway No. 400 in Paju, Gyeonggi Province, on the 13th (Tue).
TBM (Tunnel Boring Machine) is a cylindrical rotary tunnel excavator that rotates a cutter head equipped with multiple disk cutters to pierce the bedrock, and is gaining spotlight around the world due to its low noise, vibration, and dust generation and high constructability and safety. In particular, the "Slurry Shield TBM", which excavates the Han River tunnel, is a mega-scale advanced machinery that handles all processes of tunnel construction, from tunneling to wall assembly and soil discharge, in one-stop.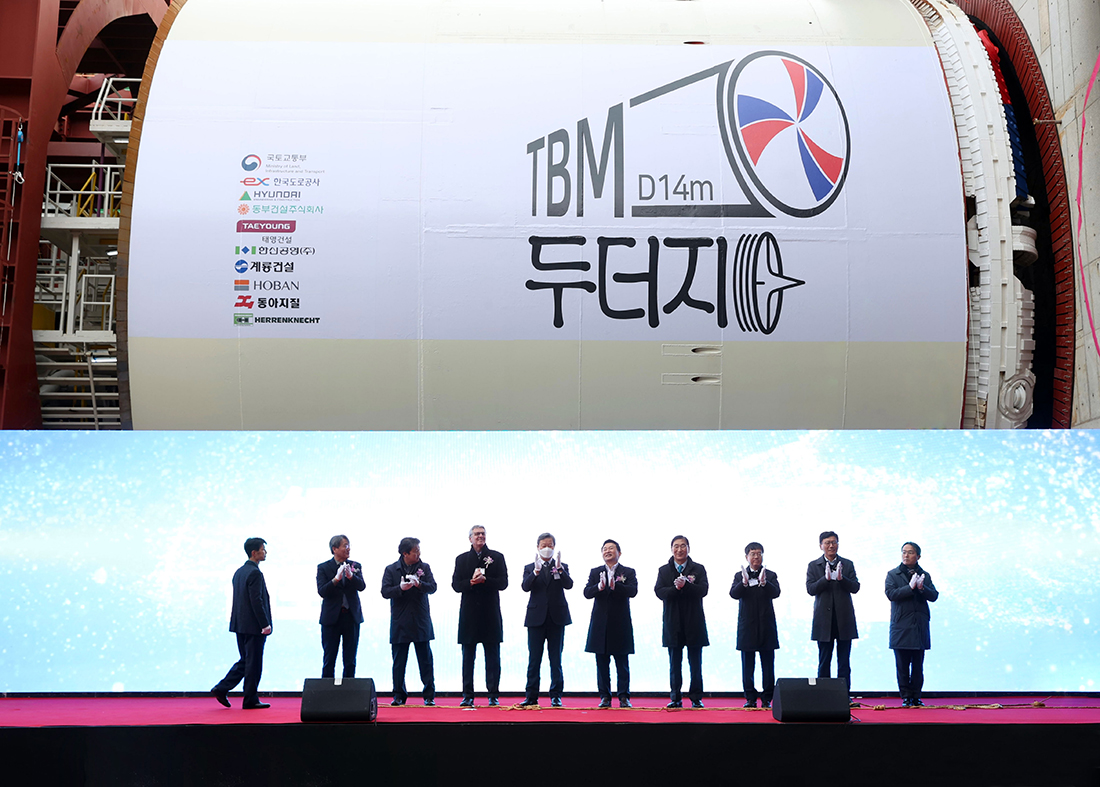 [ Officials from government agencies and construction companies, including Hyundai E&C President Yoon Young-joon (right) and Korea Expressway Corporation acting CEO Kim Il-hwan (left) with Won Hee-ryong, Minister of Land, Infrastructure and Transport (fifth from the right), are taking commemorative photos at the Han River Tunnel TBM Tunneling Ceremony in the Gimpo-Paju Section 2. ]
The event was attended by officials from public institutions and construction companies, including Won Hee-ryong, Minister of Land, Infrastructure and Transport, Kim Il-hwan, acting CEO of Korea Expressway Corporation, Park Seung-ki, President of Korea Agency for Infrastructure Technology Advancement, and Yoon Young-joon, CEO of Hyundai E&C, conveying the main message ▲to maximize safety and eco-friendliness by expanding the use of large-section TBM, a collection of smart construction technologies, and ▲to become a world-class tunnel construction technology powerhouse through localization of TBMs.
"TBM, which will be active in the Han River tunnel construction, is significant as a high-tech equipment considering both safety and environment, as it does not use the conventional blasting method but mechanical excavation method with almost zero noise and vibration," said Won Hee-ryong, Minister of Land, Infrastructure and Transport in his commemorative remarks. He added that, "We will establish the basis for revitalizing TBM construction by re-defining order and design standards, and steadily increase the competitiveness of TBM technologies in Korea by promoting research projects for the development of Korean TBMs."
"The Expressway No.400 (Gimpo-Paju, Section.2)" is a 6.734km long road connecting Magok-ri, Haseong-myeon, Gimpo-si, Gyeonggi-do to Yeondasan-dong, Paju-si, and includes a 2.98km tunnel crossing the Han River, interchange, two bridges. Among them, Korea's first road tunnel (currently, all tunnels passing under the Han River are railway tunnels), "Han River Tunnel" is drawing particular attention for its application of the Slurry Shield TBM construction method.
The Han River Tunnel section is a challenging site with relatively shallow soil thickness, high water pressure, and complex ground conditions. TBM, which is used to excavate the Han River Tunnel, is a large-scale equipment with a diameter of 14.01m, a total length of 125m, and a weight of 3,184t, the largest caliber in Korea and not commonly used even in overseas construction projects.
To commemorate the project's symbolic meaning as a mega-scale project and Korea's first-ever road tunnel construction passing under the Han River, Hyundai E&C and Korea Expressway Corporation held a TBM naming contest for two months from July last year More than 1,600 ideas were submitted amidst keen interest, and Doodeoji (Korean word for "mole"), among the most familiar animals to roam under the ground, was selected as the official name.
Introducing "Slurry Shield TBM Method" to Build the Safest Tunnel
Hyundai E&C has adopted the use of "Slurry Shield TBM" to excavate the Han River's underpass most safely. The "Shield TBM" is a method in which the cutter head at the front rotates slowly and cuts off the rock, then the excavated section is surrounded by a thick concrete structure to complete the shape of the tunnel. The excavation section of the Han River Tunnel is safer against soil collapse or flow, by installing a prefabricated 450mm-thick circular concrete structure while tunneling forward.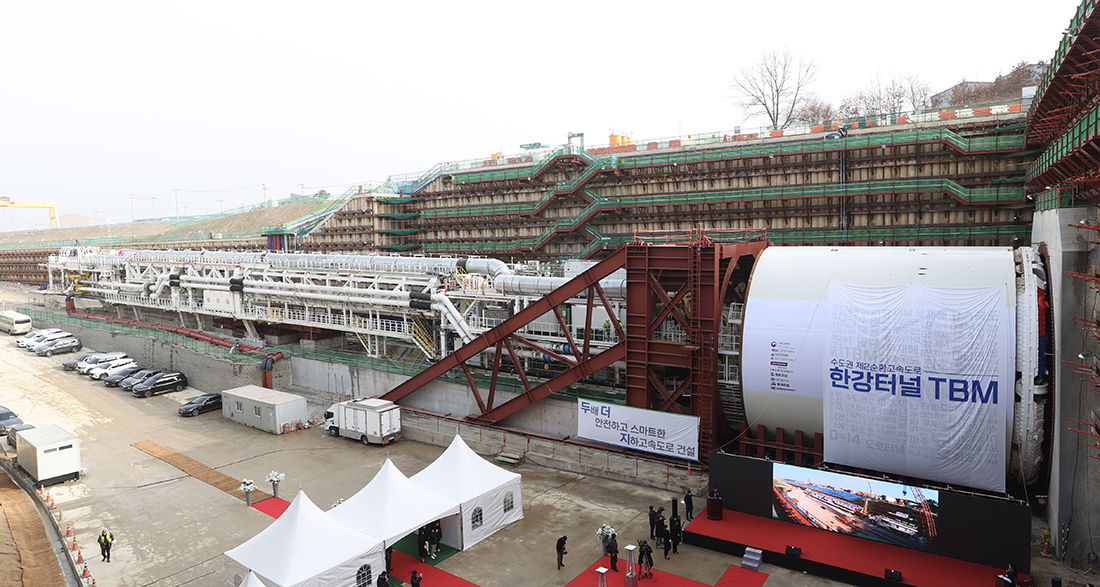 [ Large-section Slurry Shield TBM used for Han River Tunnel excavation. (Hyundai E&C will fully operate the mega-sized 14 meter section Slurry Shield TBM for excavating the Han River Tunnel.) ]
In particular, "Slurry" is a method that is applied when the upper pressure is strong or thorough prevention of subsidence is required, such as drilling tunnels under the city center, sea, and river. Inside the chamber (specific-purpose space) of the TBM, slurry(mud mixed with water, clay, and cement) is pressurized and circulated while tunneling forward, and the excavated soil is taken out to the ground using the flow of the slurry. Although it is an expensive construction method that requires construction of large pumps, piping facilities, and slurry treatment facilities on large areas, the tunnel face is stable and safe against strong water pressure, with high process efficiency.
As it is a highly complex process, Hyundai E&C went through a careful preparation process, including recruiting highly-experienced German tunnel expert and conducting additional ground surveys In collaboration with Herrenknecht of Germany, which developed this TBM, Hyundai E&C also applied cutting-edge technologies such as ▲ atmospheric pressure cutter replacement system ▲ disk cutter monitoring system ▲ cutting wheel wear detection sensor ▲ front-end exploration system, and ▲ tunnel face monitoring camera.
In particular, the Accessible Cutter Head system is a device that can replace the disc cutter through a hydraulic opening and closing device inside the cutter head manufactured in the form of a chamber. It is a recently developed technology that has been applied to domestic TBMs for the first time. Previously, professional divers were deployed to the tunnel face with high water pressure, but with this system, workers can now work under atmospheric pressure.
The TBM cutter head is equipped with 71 disk cutters. It is a key part that penetrates hard rock, so it is necessary to check the wear condition from time to time for potential replacement. A total of 2,500 disc cutters will be used for the entire excavation, and it is expected that the atmospheric pressure cutter replacement system will not only secure safety but also innovatively improve process efficiency.
In addition, it is equipped with Disc Cutter Rotation Monitoring System that monitors the rotation and temperature information of the disc cutter in real time to check replacement period and abnormal wear, Wear Detection System that measures the degree of wear of the face plate through sensors, Advance Exploration System that predicts geological changes at TBM front-end using speed difference of seismic waves (shock waves) and Telescopic Camera for that can visually monitor the inside and back of the external tunnel face and cutter head chamber, equipped with cutting-edge technologies, further adding to constructability and safety.
Meanwhile, Hyundai E&C applies various smart technologies for safe and effective site operations. The self-developed TBM Advanced Driving Assistance System (TADAS) connect and analyze various excavation data and ground information in real time. Not only many other technologies have been adopted to remotely support and manage sites including BIM-based digital management system HIBoard* and a centralized integrated operation system HOC. In addition, Hyundai E&C established ICT-based wireless communication environment to ensure smooth data communication in all sections of the tunnel and lay the foundation for the application of various smart construction equipment.
* HIBoard (Hyundai IoT Smart Dash-Board: A digital status board system that can manage the entire site information by displaying information such as process, manpower, and construction status necessary for field operation in real time.
* HOC (Headquarters-On-Site Integrated Operating System. Digitized HIBoard information of the site is linked to the HOC system of the headquarters in real time, so that the headquarters can manage the situation of the site in an integrated manner.
Safety management of the entire process is thoroughly carried out through a system that combines Hyundai E&C's exclusive technology know-how, such as IoT sensor-based safety management system and AI disaster prediction system. It plans to realize unmanned field management using remote drones and unmanned ground vehicles, and minimize blind spots in terms of safety management by installing mobile CCTVs and AI image recognition equipment, and equipment stricture prevention system.
All-Out Efforts to Advance Global Tunnel Construction Industry through Mechanization of Tunnel Construction and Advancement of Technologies
Hyundai E&C has accumulated construction expertise and track record by constructing TBM tunnels at 26 domestic and foreign sites, including Singapore's South-North Power Section Tunnel NS3 Construction and Daegok-Sosa Double-track Railway. Hyundai E&C"s owns the world's first test equipment and numerous patents*. It has made continuous achievements in TBM-related research and development and is being recognized for its world-class technologies.
* TBM method related patented technology: Rotary Cutting Machine, New Abrasion Tester, Micro EPB (Earth Pressure Balance) TBM, Earth Ground EPB TBM Simulator (Soil Abrasion Penetration Test)
In addition, Hyundai E&C is taking the lead in the construction of tunnel mechanization by developing first "Korean roadheader machine tunneling speed prediction model" and registering related patents. Various research and development outcomes have been applied to the site of Geomdan Extension Line on Incheon Metro Line 1, demonstrating performance such as reduced construction period and construction costs.
An official from Hyundai E&C said, " Based on the technological know-how accumulated through numerous tunnel constructions, Hyundai E&C is leading tunnel construction and mechanization and advancement of technologies, including Boryeong Undersea Tunnel, the longest undersea tunnel in Korea, and Seobu Underground Expressway, Korea's deepest underground tunnel," adding that, "As demand for tunnel construction is increasing recently due to urban railroad projects such as development of GTX lines in the city is, we plan to take the lead in advancing tunnel construction by actively introducing various technologies."