▲ The Singapore Tuas Finger 3 landfill site recognized for 'automating the large caisson's concrete coating method'
... Winning the highest Gold Prize in the construction category among 7 WSH Innovation Awards categories
... Proving excellent safety management of Hyundai E&C and securing a leading position in Singapore
Hyundai E&C (President/CEO Dong-Wook Park) announced that it won the Gold Prize, which is the highest honors in the construction category of the 「Workplace Safety and Health Innovation Awards 2020」 conducted by the Workplace Safety and Health Council(WSH Council) under the Ministry of Manpower(MoM) of Singapore.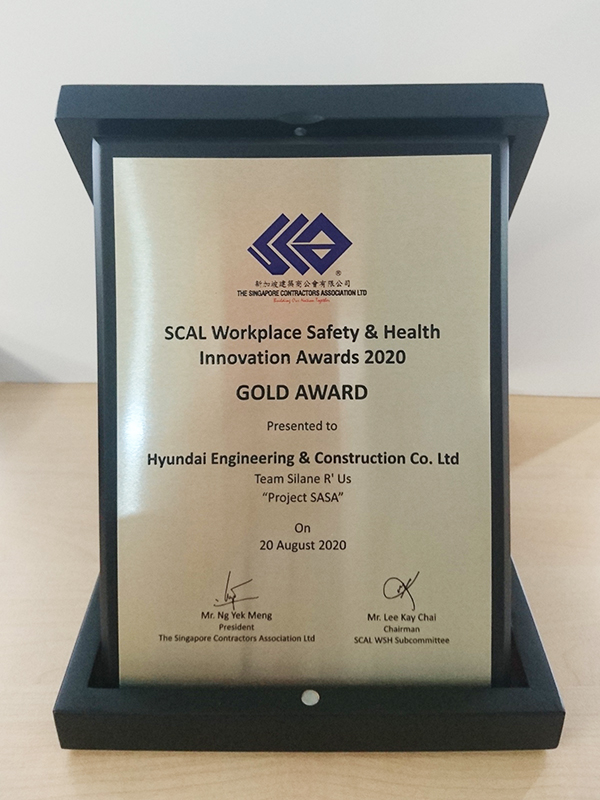 Every year, the prize is organized by the Singapore's WSH Council and awarded to organizations and individuals who have contributed to the excellent performance in the field of industrial safety and health. Last year, three Hyundai E&C sites won awards in the SHARP Awards category followed by the honor of receiving the Innovation Awards this year.
Hyundai E&C has been awarded 45 times in five categories in Singapore BCA Awards since 1997 and 10 times in WSH Awards including this year's Innovation Awards, reinforcing company's reputation in Singapore.
The Singapore Tuas Finger 3 landfill site was recognized for its achievements in changing the large caisson's 'concrete coating method', from manpower-based coating method using the existing elevation workbench to the coating method using the automation facility. This helped achieve productivity gains and better quality following a complete removal of safety accident related risks and workers' exposure to toxic substances and the use of automation facility, resulting in Hyundai E&C receiving the awards.
[ Singapore Tuas Finger 3 landfill site ]

A Hyundai E&C official said, "Hyundai E&C winning this award has once again proven its excellence in safety management and secured a leading position in the field of safety, adding that "Hyundai E&C will continue to leverage its outstanding technology to play its role as a leader internationally and faithfully fulfill its duties."

Meanwhile, Hyundai E&C entered the Singaporean market starting with the 'Pualu Tekong Landfill Project' in 1981. The company has successfully won 90 projects worth a total of US$15 billion including the Pasir Panjang Terminal Phase 3 and 4, 'Marina South Complex Development', and 'Jurong Rock Cavern Project'. Currently, Hyundai E&C is carrying out 11 civil engineering and construction projects, worth US$2.1billion.
*MoM : Ministry of Manpower
*WSH : Workplace Safety and Health
*SHARP : Safety & Health Award Recognition for Projects