▲ Hyundai E&C will build a 32 floor high-end office building and amenity facilities, with the post-groundbreaking construction lasting for 38 months
▲ The goal is to obtain Green Mark certification from Singapore's Building and Construction Authority (BCA), with a plan to maximize eco-friendliness and energy efficiency.
▲ It is expected to become the commercial and cultural bridge connecting Marina in central downtown and Bugis booming with young people
Hyundai E&C has won an exclusive deal on the redevelopment of Singapore's "Shaw Tower" worth a total of $220 million (about 240 billion won).
The top builder received a Letter of Award(LOA) for the redevelopment of the Shaw Tower from its client, Singapore's "Shaw Towers Reality.". Under the deal, Hyundai E&C will newly build a 32-story office building and six-story amenity facilities (Podium) with a total surface area of 64728㎡ and construction period of 38 months post-groundbreaking.
The Shaw Tower design plans to focus on integrating commercial spaces and amenity environment by adding the main office spaces as well as amenity facilities, community facilities, outdoor amphitheater, sky garden, cafe, and terrace. In accordance with Singapore's vision of implementing a car-free city, Shaw Tower maximizes a seamless connection between pedestrian passages, nearby government offices and MRTs.
Completed in 1975, the old Shaw Tower had established itself as a landmark in downtown Singapore over the past 46 years. Shaw Tower, which will be reborn with this project, plans to prioritize the health and safety of customers and focus on eco-friendliness and less energy consumption with the aim of obtaining 'Green Mark' certification by the International WELL Building Institute and Singapore's Building and Construction Authority (BCA). After completion, it is expected to serve as a bridge between the Marina region located in central Singapore and the Bugis region crowded with young people.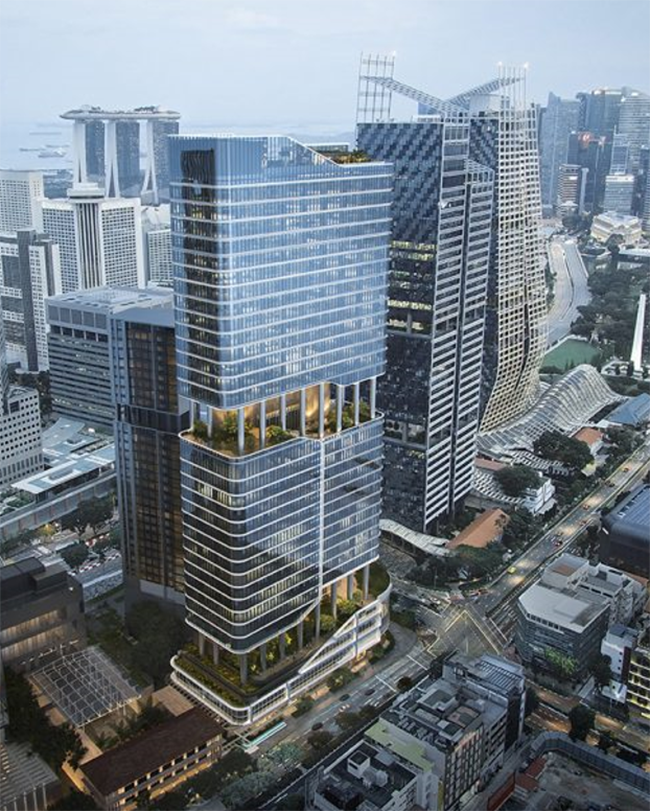 Since its first entry into Singapore, starting with the Pulau Tekong Reclamation Project in 1981, Hyundai E&C has won a total of 91 deals valued at $15.2 billion, including Pasir Panjang Terminal Construction and Marina South Complex Development Project, etc. Currently, a total of 11 engineering and construction projects worth some $2.1 billion, including three dredging and reclamation works, are being carried out in Singapore.
An official from Hyundai E&C said, "Although overseas orders have been decreasing due to the recent pandemic, we have maintained trust with diverse clients for a long time by successfully completing big construction projects in Singapore. The latest deal is the result of our selection and focus strategy after building overseas marketing capacity. We will do our best to win overseas orders in the future."