Smart, safe, energy efficient

Hillstate Lake Songdo Complex I is Korea's first high-rise multifamily housing aimed for "zero energy," based on construction technology and methods developed by Hyundai E&C. In 2015, it was selected for the Zero Energy Building Pilot Project of the Ministry of Land, Infrastructure and Transport. Notably, it attempted to combine a variety of technologies, such as passive technology, active technology, renewable energy technology and the Smart Building Energy Management System (BEMS). As a result, it claimed the title of the "leading company" in the development of housing space by obtaining the Building Energy Efficiency Rating Level 1++ and the Zero Energy Building Level 5 with 23.37 percent of energy independence, the first of its kinds among domestic multi-family housing.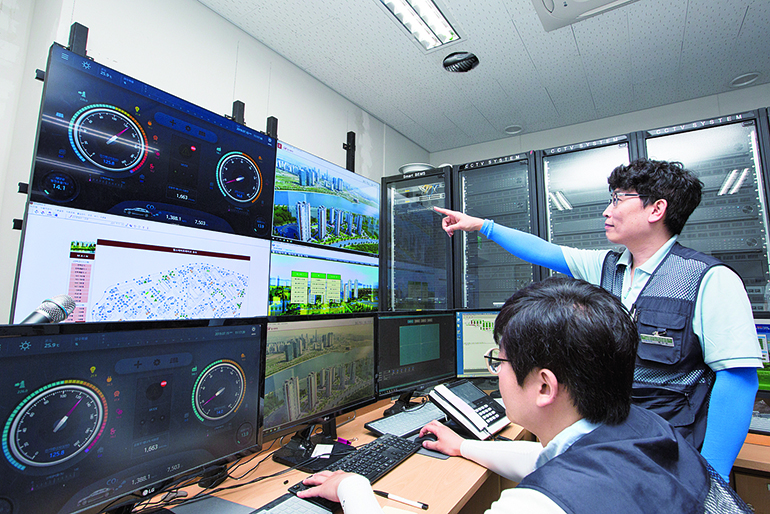 An official of the construction site said that they put an emphasis on securing air tightness to increase energy efficiency. Moreover, Hillstate Lake Songdo Complex I took a further step to realize the energy saving of the apartment buildings: It provides better insulation through the use of highly insulated windows and doors, minimizes energy consumption by adopting highly efficient LED lighting, the Hyundai Energy Recovery Ventilation (HERV) and the Total Energy & Environment Management System (TEEMS), and offers the renewable energy produced via solar modules and fuel batteries to the common areas.
As for safety aspects, Hillstate Lake Songdo Complex I is full of bright lights even at night. This is attributable to the use of the Crime Prevention Through Environmental Design (CPTED) aimed to increase the overall illumination within the apartment complex and to the installation of surveillance cameras to minimize blind spots. A considerate construction design of lowering the height of walls surrounding garbage collection areas enables residents to look inside and check the garbage dumps.

On top of this, Korea's primary builder made concerted efforts to add value to the premium apartment complex by using functional wallpapers to absorb formaldehyde (HCHO) on bedroom ceilings, creating pleasant residential environments based on TEEMS and boosting residents' convenience with its own Hi-oT. The technology-intensive apartment complex was awarded the Ministerial Award of the Ministry of Land, Infrastructure and Transport at the second Korean Intelligent Building Award in recognition that its IT technologies including IoT and networks, and sensors and systems allow its occupants to enjoy pleasant, safe and economically feasible living experiences. The award winning demonstrated once again that the builder solidified its foundation to establish the construction of smart cities.
Next to the Hillstate Lake Songdo Complex I, Hillstate Complex II is scheduled to be completed in coming January.