▲ Peru's new airport construction begins in earnest, attended by Peruvian Ambassador to Korea and Hyundai E&C President Yoon Young-joon.
▲ The construction plan is based on a track approach involving simultaneous design and construction of airport terminals, control towers, and runways for 47 months.
▲ Yoon Young-joon, president of Hyundai E&C said that, "the company will build a world-class eco-friendly airport that can accommodate 5.7 million people a year, while representing the world famous tourist destination of Inca heritage Machu Picchu"
▲ Once completed, the new airport will contribute to revitalizing the Peruvian tourism industry and economy in the Cusco region
▲ With successful entry into new markets such as Peru and Panama, Hyundai E&C will continue to identify subsequent orders in Latin America
Hyundai E&C will seek a full-scale development of a new international airport in Peru, for which the company was awarded a contract in last March (site preparation project) and July (main construction).
On November 19 (local time), Hyundai E&C held a groundbreaking ceremony for the construction of a new airport in Chinchero at the Cusco State Government Complex in southern Peru. More than 80 local officials, including Transportation and Communication Minister Francisco Silva and Cusco Governor Jean Paul Benavente, attended the groundbreaking ceremony, and from the Korean side attended the Korean Ambassador to Peru Cho Young-joon, Hyundai E&C President Yoon Young-joon, Airport Policy Officer of the Ministry of Land, Infrastructure and Transport Joo Jong-wan and Korea Airports Corporation President Son Chang-wan.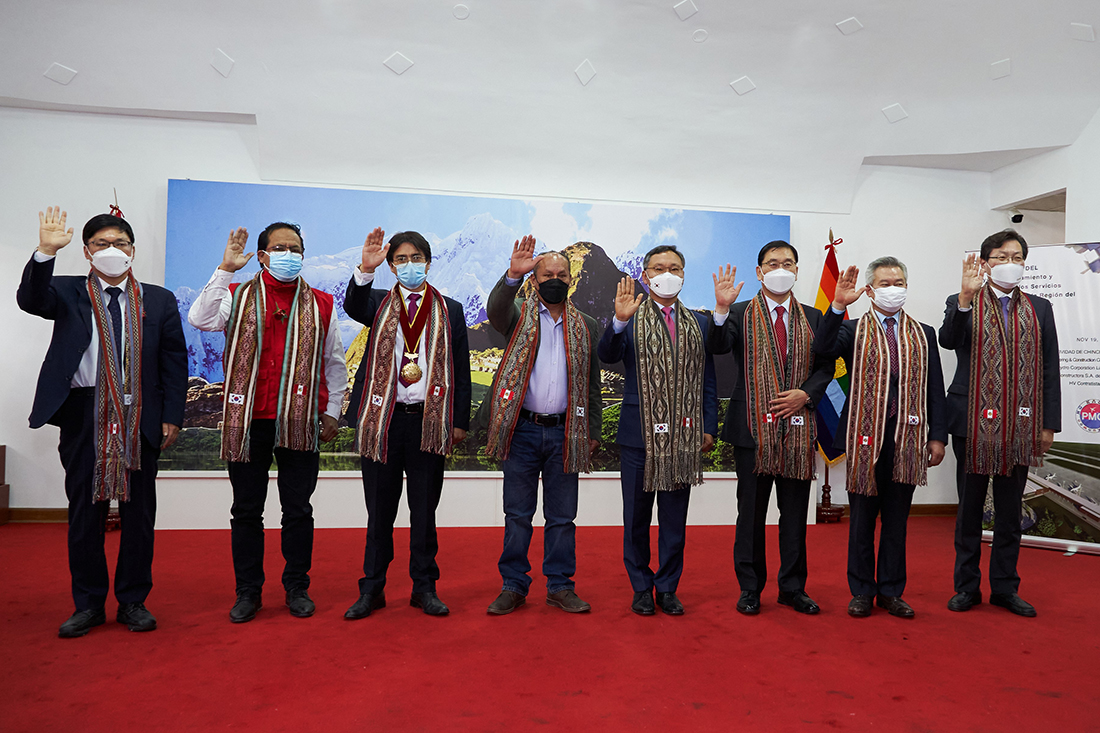 [ In Peru, President Yoon Young-joon (third from the right) and related officials being photographed during the groundbreaking ceremony for the construction of Peru's Chinchero Airport ]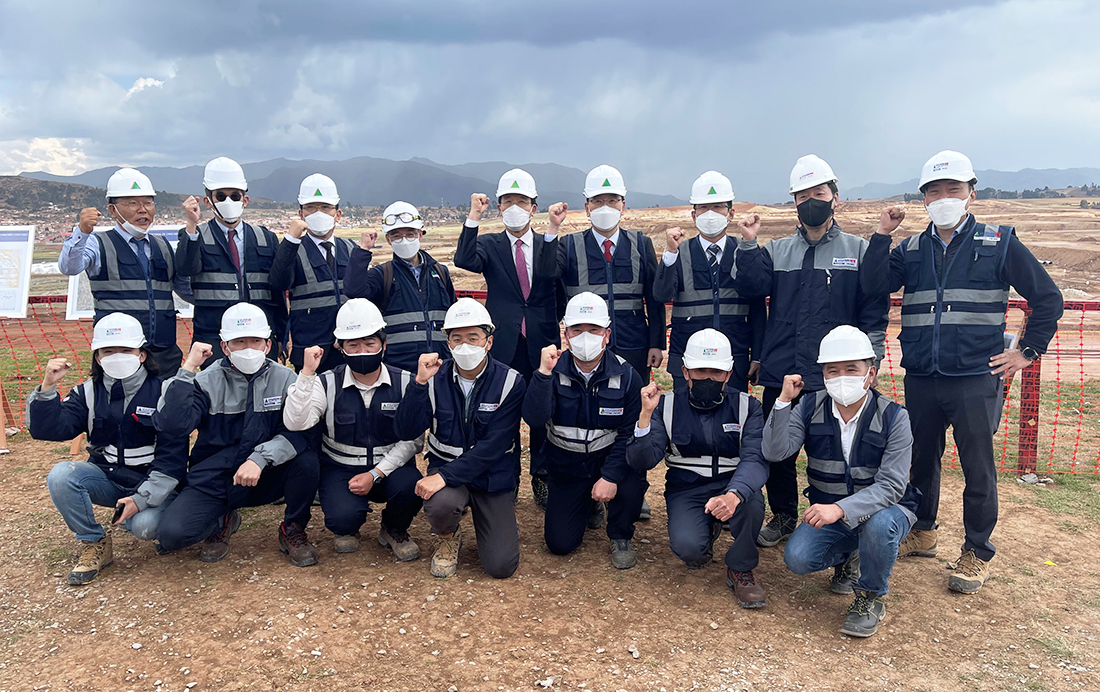 [ Peruvian on-site staffs and President Yoon Young-joon(fourth on the right in the second row). ]
Hyundai E&C won consecutive orders in March and July this year with a total project value of 760 billion won for the site preparation and terminal construction of the new international airport, which will become a new gateway for Machu Picchu, a world cultural heritage and Inca site. Hyundai E&C, having first entered the Peruvian new market in March winning an order for the site construction of the new airport, will now be able to manage the entire project with the latest deal on leading the terminal main construction.
The Chinchero New Airport Terminal Construction is a project to build state-of-the-art airport including international terminals, runways, control towers, and aprons that can accommodate 5.7 million people a year to boost tourism demand in Machu Picchu, a global Inca cultural site, and create new industries. Building Information Modeling (BIM), a state-of-the-art advanced design technique, will be applied to match the reputation of Machu Picchu, a global tourist destination, to digitize and manage the entire process from design, construction and maintenance, seek design differentiation through three-dimensional architectural modeling, reduce construction period, save construction costs, and maximize energy-saving efficiency.
When the new international airport is completed, Cusco's tourism income is expected to double within five years and added value including new jobs will be created in tourism-related auxiliary industries, contributing greatly to revitalizing the national and the regional economy.
Hyundai E&C President Yoon Young-joon said, "Just as Peru's ancestors built Machu Picchu, an immortal cultural heritage with amazing technology, Hyundai E&C JV, which has abundant technology and experience in the airport field, will make the new airport a world-class high-tech eco-friendly airport."
Meanwhile, Hyundai E&C has made a meaningful progress in developing its presence in the Latin American market since its first entry into the region with Brazil's combined thermal power plant construction in 2000. It has been currently undertaking large infrastructure projects, including Chile's Chakao Bridge Construction and has recently signed a $2.8 billion Panama Metro Line 3 construction project. The global top builder is continuing the implementation of subsequent large constructions focused on G2G partnership built on private-public cooperation.