▲ Signing ceremony held at Holtec in New Jersey, USA.
▲ Teaming Agreement on the overall business, including the exclusive right to the global market and the business license in the North American market.
▲ Laying the foundation for transitioning to a pre-construction solution partner (Expanded EPC) engaged in developing the future new technologies, global sales, purchasing, construction, and commissioning.
Hyundai E&C signed a teaming agreement with Holtec International, a U.S.-based leading nuclear energy company for the development of small module reactors (SMR) and joint business developments.
The signing ceremony of the teaming agreement was held in the Holtec head office in New Jersey and was attended by representatives from both companies including Hyundai E&C President Yoon Young-joon and Dr. Kris Singh(CEO & President) of Holtec. Through the recent agreement on developing the global market, the two companies agreed on the overall business operations, including joint development of a commercialization model ▲ joint participation in marketing and bidding ▲ joint promotion of businesses. By doing so, Hyundai E&C will solidify its position as a leader in SMR as a game changer in the global construction market in the future.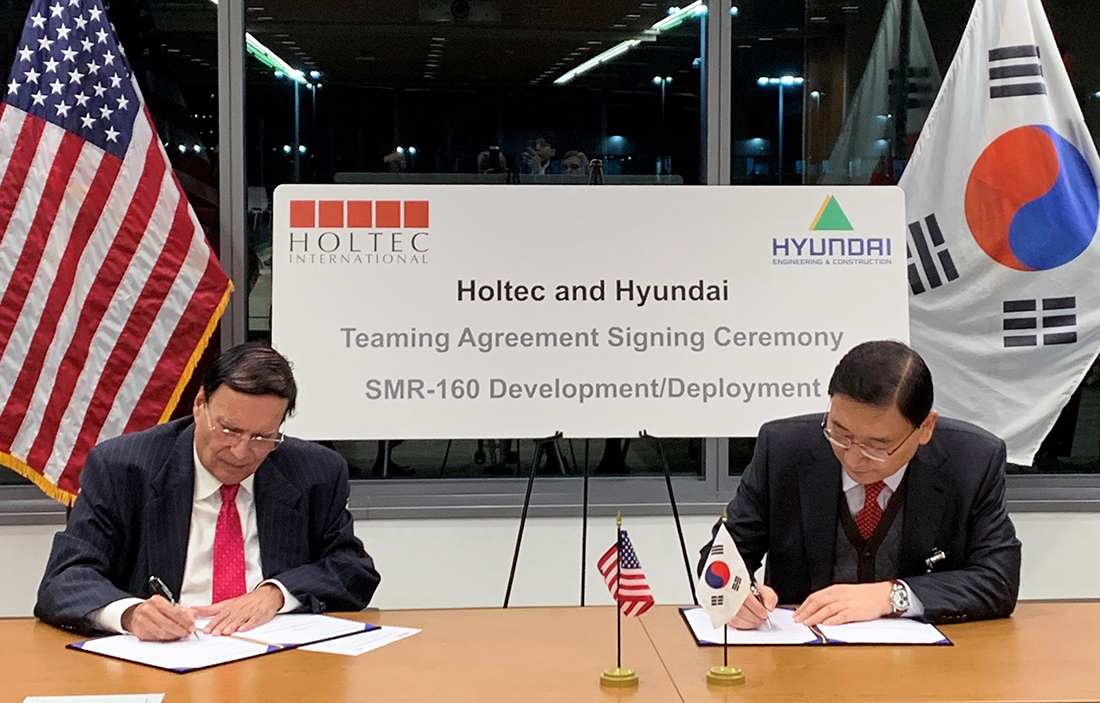 [ Photograph of signing ceremony of the Teaming Agreement for joint development and joint deployment of small module reactor. Dr. Kris Singh CEO of Holtec and Hyundai E&C President Yoon Young-joon (right side) are signing the Teaming Agreement. ]
In addition, Hyundai E&C has laid the foundation for building various business portfolios and leading future construction projects including: ▲ strengthening future responsiveness ▲ expanding new low-carbon business areas ▲ securing business exclusive rights in global markets in design, purchasing and construction and▲ securing equity interests in the North American market.
Holtec's SMR-160 model, which is currently going through detailed design and licensing procedures in North America, is a 160MW light small module reactor for general purposes that can be deployed without regional and environmental restrictions such as deserts and polar regions. The safety of the SMR-160 model, under development based on proven light reactor technology, has been validated through simulations based on potential virtual risks including Fukushima crisis and terrorism, and can be installed on small sites, making it relatively free from site selection restrictions compared to large nuclear power plants. In addition, it is possible to connect with existing small module reactors if necessary after deploying SMRs through modularization.
Currently, Hyundai E&C's has passed the Canadian Nuclear Safety Commission (CNSC)'s first phase of the preliminary approval process for reactor design and is currently undergoing the approval process by the USNRC. The SMR-160 model highly praised for its safety and commercial viability, selected as the "next-generation reactor demonstration program" model by the U.S. Department of Energy, and Hyundai E&C is in talks to deploy the SMR-160 for first time the in Oyster Creek, New Jersey, in the U.S.
Yoon Young-joon, president of Hyundai E&C, said, "Through this agreement, we have laid the groundwork for transitioning to a pre-construction phase solution partner(Expanded EPC) engaged in new technologies development, global sales, purchase, and construction, going beyond the traditional order/construction-centered business operations" adding, "We will focus on new business development in construction automation and smart city to become a 'Total Solution Provider' covering all construction cycles from investment development to operations."
"We expect to stably supply carbon-free energy around the world through the SMR–160 model," Holtec CEO Dr. Kris Singh said. "The joint development and joint deployment agreement with Hyundai E&C, a global EPC leader, will shorten the time required to contribute to addressing the global climate change as well as successfully implementing businesses."
* 'Holtec' is a Florida-based company with branches in New Jersey, Ohio, Pennsylvania and Brazil, Canada, India, Japan, Mexico, South Africa, Spain, UK and Ukraine.
The company has played a leading role in the world's energy industry since the 1980s, developing and providing nuclear power generation-related technology solutions, and among others, in the field of spent fuel, it has secured world-leading technology development capabilities, such as expanding its business into the world's first Wet Fuel Storage Systems and developing a temporary storage facility integrated underground for spent nuclear fuel. In addition, Holtec is expanding its main business area into nuclear power plant decommissioning and is currently decommissioning the U.S. Oyster Creek, Piligrim, and Indian Point nuclear power plants. Holtec has established itself as a total solution provider in designing, engineering, licensing, and providing technology solutions in nuclear power generation and is today undergoing the approval process for its small module reactor development business based on long years of technology know-how.