▲ The 6.9km long Boryeong Undersea Tunnel is Korea's longest and world's fifth longest tunnel opened 11 years after starting construction
▲ Struggle with sea water flowing into the 80m long dark undersea tunnel is finally over
▲ Hyundai E&C's long experience and know-how resulted in completion of a long undersea tunnel of the world's best quality
... 3D geological analysis: 9 years after starting construction in 2010, the tunnel penetrates the center without an inch of error on the ascending and descending lines
... Sea blasting method of NATM: Completed without seawater runoff once using advanced location control system.
... Intelligent wall construction IMG method: Precise control of cement injection amount with optimal pressure, flow rate, and time.
... High durability: Increased tunnel wall thickness by 100mm and doubled strength of concrete strength (24㎫→40㎫)
... Special waterproof gate installation: Monitoring seawater inflow and additional safety securing emergency evacuation space for workers.
On November 30, Hyundai E&C had a formal opening of Korea's longest Boryeong Undersea Tunnel covering 6.9km section connecting Daecheon Port in Boryeong-si, Chungcheongnam-do to Wonsando Island in Ocheon-myeon, Taean-gun.
[ Upon completion of the Boryeong Undersea Tunnel (Starting Point) ]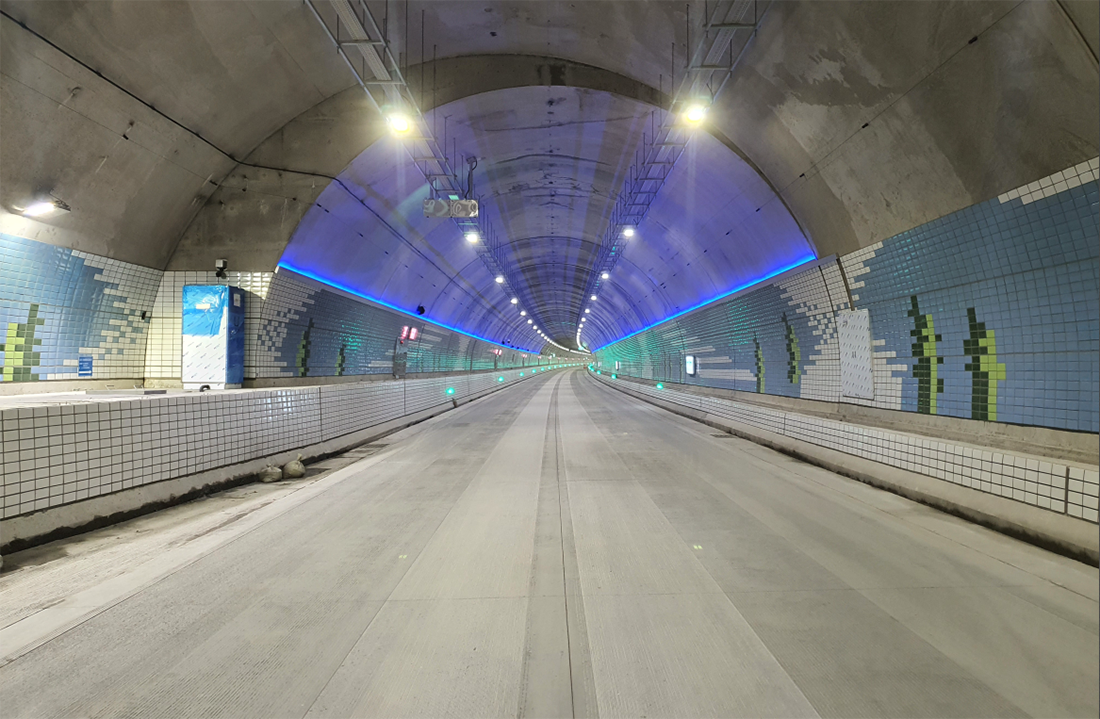 [ Upon completion of the Boryeong Undersea Tunnel (Tunnel Interior) ]
The Boryeong Undersea Tunnel is a 488.1 billion won project with a total length of 6927m. It is Korea's longest and the world's fifth longest tunnel, which has been completed with the hard work of 800,000 workers per year. The tunnel is a two-lane road that penetrates about 80m below sea level from Taean (ascending line) to Boryeong (descending line). The tunnel was built to connect National Road 77, which was cut off near Daecheon Beach, to Yeongmok Port on Anmyeon Island and has been completed with Korea's home-grown construction technology after starting its construction on December 2010. After penetrating the ascending line in February 2019, the subsequent descending line passed through the center line precisely in June 2019 without a slightest error.
※ In an undersea tunnel, it is crucial reduce the error on both sides because the penetration of the starting point and the ending point is made at the same time from both sides.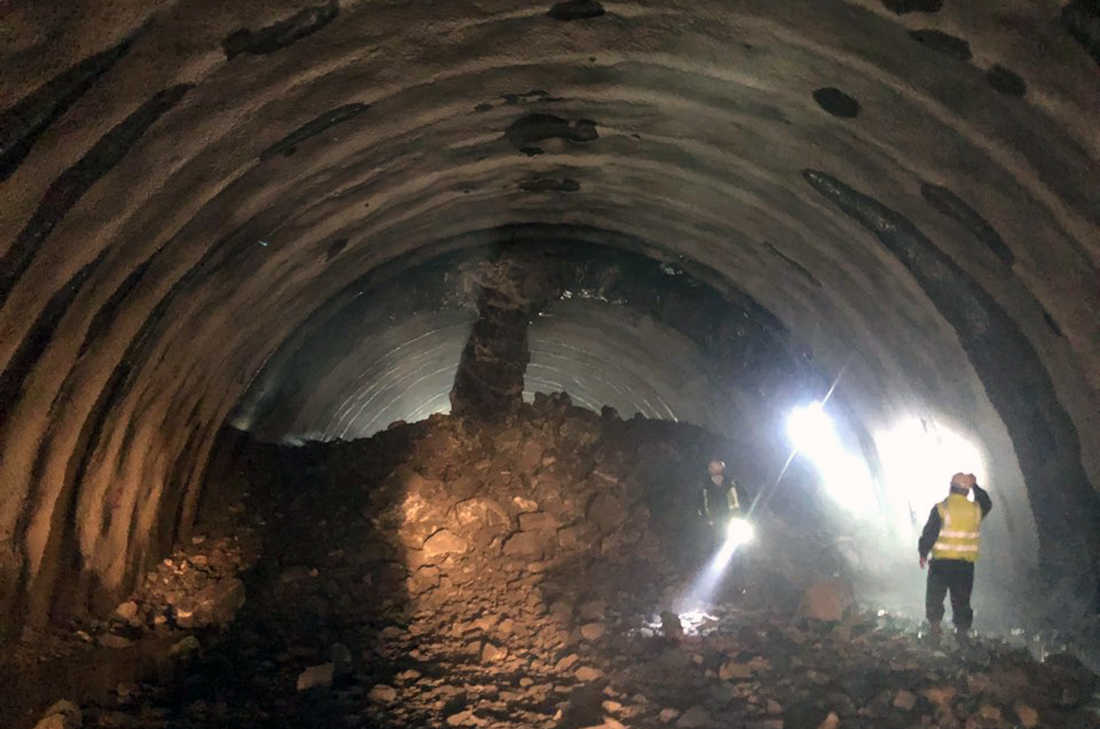 The NATM(New Austrian Tunneling Method) applied to the Boryeong Undersea Tunnel, is a method of excavating rock by drilling a hole in hard rock and exploding gunpowder. Hyundai E&C applied the undersea section blasting NATM method to effectively control seawater inflow, the biggest risk in a undersea tunnel construction project. In addition, high-tech robot drilling machines that are computer-localized and controlled were applied to increase the accuracy of excavation. The Boryeong Undersea Tunnel penetrated the center of the tunnel without a single seawater runoff with an optimized excavation method through geological analysis using 3D computing.
※ The construction period of the world's longest undersea tunnel, the 53.85km long Seikan Railway undersea tunnel, has been extended due to four seawater runoff accidents since starting its construction in 1964. The tunnel was opened in 1988, 25 years after starting construction.
As a result of the 3D geological analysis, there were many dangerous sections such as low-strength coal-containing layers (strata containing coal) and folds (bent geological structures) which required attention and continuous monitoring. At the same time, special waterproof gates with 1 m thick walls allowing workers to evacuate in case of emergency were installed throughout to ensure safety. In addition, the IMG (Intelligent Multi Grouting) method was used to minimize the damage to surrounding facilities due to construction. This is a method that can block the inflow of seawater into the tunnel by precisely controlling the optimum pressure, flow rate, and time of cement solution during the concrete work of a the tunnel walls. In order to strengthen the durability of the Boryeong Undersea Tunnel, Hyundai E&C increased the wall thickness from 30 cm to 40 cm and the concrete strength from normal (24 MPa) to high strength (40 MPa). Safety was further enhanced by applying an anti-corrosion rock bolt to the connection section.
Meanwhile, the opening ceremony of the Boryeong Undersea Tunnel held today is attended by politicians including the Prime Minister, the second vice minister of the Ministry of Land, Infrastructure and Transport, Chungcheongnam-do Governor, and Daejeon Metropolitan Office of Land Commissioner, as well as Hyundai E&C executives and local residents. The program will begin by a progress report, followed by Prime Minister Kim Boo-kyum welcoming speech, Chungcheongnam-do Governor Yang Seung-jo's congratulatory speech, and the commemoration ceremony of Hyundai E&C President Yoon Young-joon and distinguished guests.
With the opening of the Boryeong Undersea Tunnel, the distance from Boryeong Daecheon Port to Taean Yeongmok Port, which took an hour and 30 minutes, will be shortened to 10 minutes, which is expected to improve the living conditions of the local economy and nearby local residents with facilitated logistics handling and sufficient supply of electricity/communication/water.
A Hyundai E&C official said, "The undersea tunnel construction is a battle against seawater 24 hours a day, 365 days a year. Were it not for Hyundai E&C's long years of know-how and expertise in civil engineering, it would have been impossible to tackle the challenge of sea water runoff," adding that "we will also do our best to meet customer satisfaction in subsequent construction orders as we have completed Korea's longest Boreyong Undersea Tunnel with the highest quality that will contribute to revitalizing the west coast economy."