▲ Joined the Carbon Disclosure Project (CDP) Korea Hall of Fame for Four Consecutive Years
... Recognized in Korea and abroad for world-leading competitiveness in climate change response
▲ Pre-emptive measures against global climate change crisis
... Declared coal-free policy last year, accelerating transformation towards sustainable business model
Hyundai E&C has won the Hall of Fame for the fourth consecutive year in the CDP Climate Change Category announced by the Korean Committee on Carbon Disclosure Project (CDP), the only global green management certification body in Korea, to become the only Korean builder joining the *Platinum Club.

*Platinum Club: Joining Hall of Fame for Four Consecutive Years

The CDP Climate Change is a global project that requires major companies around the world to disclose information on companies' strategies and risk management capabilities on climate change response and publish an analysis report to investors and stakeholders. The CDP evaluation results are provided to financial institutions around the world and used as investment guidelines and are recognized as the most reliable sustainability evaluation index along with the DJSI (Dow Jones Sustainability Indices). Hyundai E&C is the only Korean construction company to maintain its Hall of Fame status by acquiring a Leadership Grade in 2021 and joined the Platinum Club, the highest grade of the CDP Korea.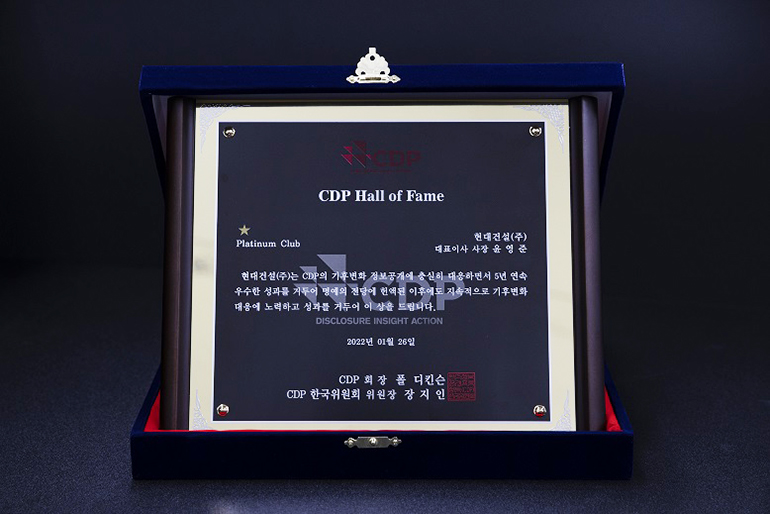 [ Image of CDP Platinum Club Plaque ]

Hyundai E&C first entered the Hall of Fame in 2018 after receiving Leadership A for five consecutive years since 2014. In the latest evaluation, Korea's top builder joined again the Hall of Fame for the fourth consecutive year with high scores in all areas, including ▲Climate Change Response Strategy ▲Greenhouse Gas Reduction Commitment ▲Greenhouse Gas Management ▲New Business Development. The achievement was the result of Hyundai E&C's commitment to green management, as Korea's top builder had established a vision to "2050 Global Green One Pioneer" and has implemented a preemptive green energy management strategy aligned with the national greenhouse gas reduction goal. To this end, Hyundai E&C has established a green energy business management system, implementing it across the entire business process of technology development, purchase, transportation, construction, demolition to operation, defined green energy policies and goals across all business units and sites every year, and thoroughly managed them according to specific implementation plans.
■ Hyundai E&C Establishes "Carbon Management System", Strengthening Systematic Sustainability Management Strategies and Competitiveness.
Hyundai E&C established a coal-free policy in January last year and continues to disclose the progress of its implementation to internal and external stakeholders. As part of these activities, the company launched a carbon-neutral response T.F. in December last year to establish mid-to long-term strategy and roadmap for carbon-neutrality and its sustainable implementation. It plans to play a pivotal role in future transformation of green, low-carbon industrial infrastructure built on its drive for future new business development and strategy aligned with carbon neutrality commitment. Hyundai E&C is recognized for its sustainable management performance as a global construction leader, including its entry into the CDP Hall of Fame Platinum Club, the world's No. 1 rank in the DJSI construction and engineering segment last November 2021, and grade A in the overall Korea Corporate Governance Service (KCGS) ESG evaluation.
An official from Hyundai E&C said, "being the only construction firm in Korea to join the CDP Korea Hall of Fame (Platinum Club) for four consecutive years is a testament to Hyundai E&C's excellence in preemptive and voluntary carbon management and ability to respond to climate change," adding that, "going forward we will do our best to actively lead the realization of carbon neutrality as a global green leader."