▲ The first Korean builder to receive the Deal of the Year Award from a leading media firm in the Latin American financial market
▲ In recognition of the successful performance of a global financial agreement of the Panama Metro Line 3 project
▲ It is expected to strengthen the financial competitiveness of Korean firms in the Latin American infrastructure market
On March 10th (local time), at the LatinFinance's 2021 Deals of the Year Awards held at Gotham Hall in Manhattan, New York, Hyundai E&C won the "Structured Financing of the Year" category in recognition of its outstanding global financial performance. LatinFinance, founded in New York and Miami in 1988, is a leading media platform covering economies and financial markets in the Latin American and Caribbean region. Every year, monumental deals made in the capital markets of the region are selected and announced. The award is a feat achieved by a $2 billion mid-to long-term financial agreement signed in July last year in connection with the Panama Metro Line 3 construction project being selected as the winner of LatinFinance's 2021 Deals of the Year Awards.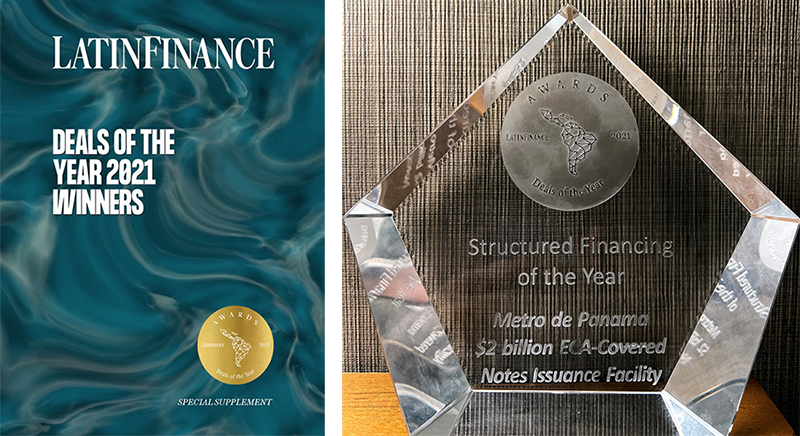 As a background for selection, LatinFinance explained that the said deal was evaluated to be △ the largest transaction in the history of Panama, △whose structured financing was set up by competent financial institutions from around the world including Asia, Europe, and the US, having a △ significant social and environmental impact on Panama.
The Panama Metro Line 3 construction project is the largest infrastructure project initiated by the Panama government with $2.8 billion to build a 25-kilometer monorail, 13 stations, and one vehicle depot to connect Panama City and the western Arraijan region. The project is expected to reduce the rapid increase in local traffic and carbon dioxide emissions of 20,000 tons per year. Hyundai E&C formed a consortium with POSCO E&C and Hyundai Engineering Co. in 2019 to bid for the project and eventually clinched the deal in February 2020, after scoring the highest in all areas of technology, commercial viability and finance.
To successfully win the project and enhance financial competitiveness, Hyundai E&C established a "program for purchasing mid-to long-term export receivables" with the Export-Import Bank of Korea and Korea Trade Insurance Corporation to support the Hyundai E&C consortium for the first time, ultimately forming "Team Korea". The newly-established program actively supports Korean companies' entry into Latin America by purchasing on "non-recource terms" the export receivables issued by the client to exporter, as a way to provide funding to exporters and collect the funds from clients three to seven years later.
*Non-recource terms: The financial institution having purchased export receivables for non-payment of the importer does not request repayment from the exporter.

On July 29, 2021, a $2 billion mid-to long-term financial agreement was signed, in participation with over 10 global banks, including Panama's state-run bank, to purchase $2.7 billion worth of "letter of commitment for construction payment" for a total of 9 years.
An official from Hyundai E&C said, "the development of a mid-to long-term export receivables purchase mechanism by Korean ECA institutions will lay the foundation for Korean companies to enhance their financial competitiveness in financing infrastructure projects widely available in the Latin American market," adding that "going forward, Hyundai E&C will actively utilize the mechanism to accelerate the company's presence in Latin American markets to steadily carry out similar projects."