▲ Engaging in direct participation in Holtec's ongoing Indian point nuclear decommissioning project
▲ Securing advanced nuclear decommissioning technology to take the lead in decommissioning and radioactive waste management projects
▲ Diversifying nuclear power plant business since global SMR exclusive contract in November last year
Hyundai E&C expected be Korea's first to enter the US nuclear decommissioning market.
On March 28 (local time), Hyundai E&C and Holtec have signed a teaming agreement including a PM(project management) contract to cooperate on Holtec's Indian Point decommissioning site.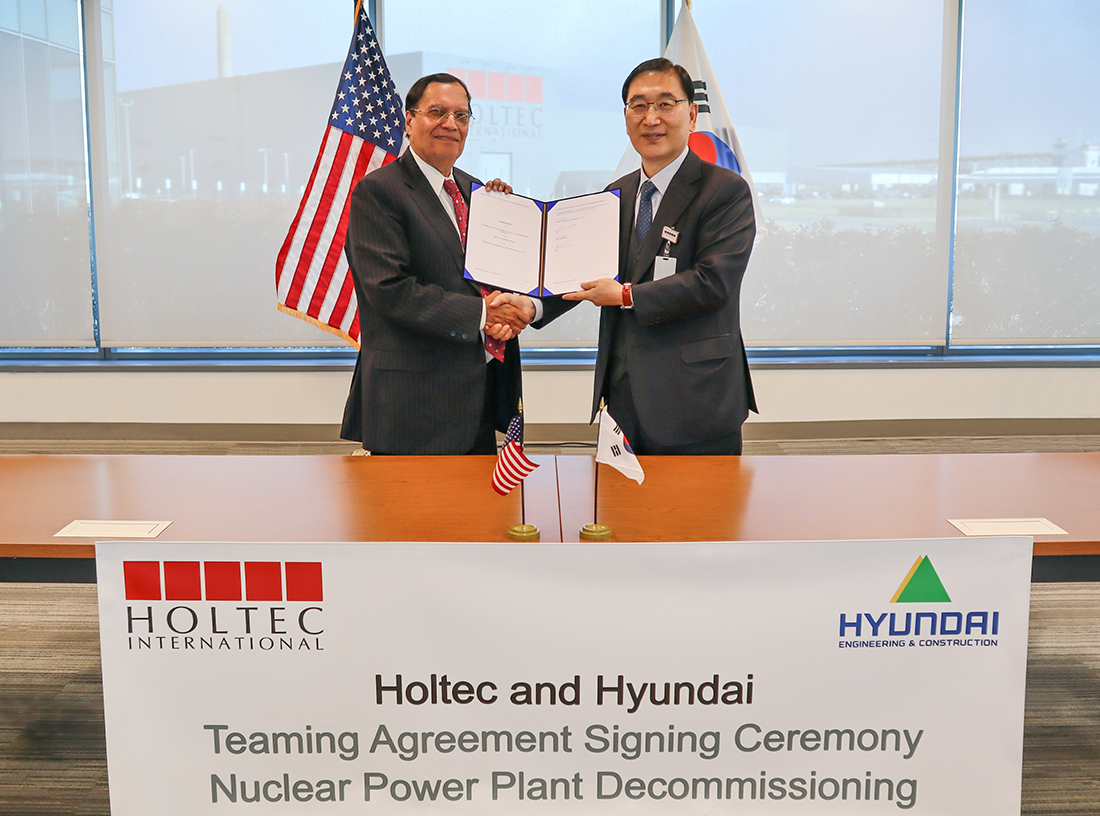 [ (From left) Holtec President and CEO Dr. Kris Singh and Hyundai E&C President Yoon Young-joon signing the Teaming Agreement for Nuclear Power Plant Decommissioning. ]
As part of the PM contract, Hyundai E&C will work on the overall aspects of the decommissioning project from▲process and construction planning, ▲volume reduction of large equipment (reducing waste volume by crushing, dehydration, drying, incineration, etc.), ▲chemical decontamination (removing radioactive substances), and ▲cutting reactor pressure vessels and interior products.
The agreement comes four months after the two partners singed a global exclusive contract on small modular reactor (SMR-160 model) construction project last November. Hyundai E&C President Yoon Young-joon and Holtec President and CEO Dr. Kris Singh signed a Teaming Agreement at Holtec, New Jersey, whose ceremony was attended by key figures from both companies. By committing to partner in the global market, the two companies have agreed to cooperate on overall aspects of decommissioning project such as Hyundai E&C ▲directly participating in the Holtec-owned US decommissioning projects, ▲both making joint entry into the global decommissioning market, and ▲seeking joint marketing and bidding opportunities.
US-based Holtec is actively decommissioning several plants across the United States, including the former nuclear power plants of Indian Point, Oyster Creek and Pilgrim, among which Hyundai E&C is expected to first work on the Indian Point site as a project manager. The Indian Point nuclear power plant is a pressurized light-water reactor type operating a total of 3 units (2,317MW capacity). The first reactor went into commercial operation in October 1962, and the third one was permanently suspended in April 2021. The ownership of the nuclear power plant was transferred to Holtec in May 2021.
The latest agreement will allow Hyundai E&C to join a nuclear decommissioning project from its initial stage and accumulate high-tech decommissioning technology, laying the foundation to take the lead in the domestic nuclear decommissioning market, with many bidding orders coming up in the future.
At the signing ceremony, Hyundai E&C President Yoon said, "We have secured our core competitiveness in diversifying business portfolio and in new business areas by teaming with Holtec, a global leader in nuclear decommissioning and radioactive waste management," adding that, "In the future, Hyundai E&C will continue to create sustainable core value by leveraging Holtec's innovative technologies coupled with Hyundai E&C's knowledge and capabilities required in the complex projects with safety and quality as top priorities." President Yoon also stressed that, "The company will continue to win energy transition projects including SMR as future growth driver."
Holtec CEO Dr. Kris Singh said, "With the expanded contract following the SMR cooperation agreement last November, we will successfully lead projects to maintain our edge in the nuclear power plant business markets with Hyundai E&C, which holds vast experience and technological expertise in overseas construction projects."