▲ Hyundai E&C's Gimpo-Paju Expressway Section 2 Holds a "Tunnel/Smart Construction Technology Demonstration"
… Introducing 23 smart construction technologies, including data-driven advanced TBM tunnel technology.
▲ Overview of smart tunnel and construction technologies incorporating advanced technology know-how
… Installation of wireless communication network across tunnels for the first time in Korea to utilize TBM sensor data and operate smart construction equipment.
… Establishment of integrated remote collaboration system such as real-time data sharing platform between headquarters and site, smart glass, and AR-based HoloLens.
… Surveying (digital mapping) of hazardous areas and unmanned safety patrol operations via remote control drones, unmanned ground vehicles, and spots, and industrial robot Spot.
▲ Expect to improve productivity, quality and safety through the development of site-tailored smart construction technologies
… "We will contribute to the win-win development and advancement of the construction industry through continuous R&D investment and industry-academic-R&D center exchanges".
On April 7, Hyundai E&C held the "Hyundai Construction Tunnel/Smart Construction Technology Demonstration" at the Han River Tunnel Promotion Hall at the site of Expressway Line 400 Gimpo-Paju Construction Section 2. The demonstration was attended by key government ministries/industrial and academic officials, including Kim Ki-beom, head of Hyundai E&C's civil engineering division, Kim Yu-bok, head of Korea Expressway Corporation's R&D division, and Cho Sung-min, head of Center for Smart Construction Technology.
* Center for Smart Construction Technology: The Korea Expressway Corporation, main operator of the Center for Smart Construction Technology, has been tasked by the Ministry of Land, Infrastructure and Transport to implement digital innovation in the construction sector.
The program included a technology demonstration on the present and future of tunnel technologies and smart construction technologies recently gaining traction, followed by a site visit to the Tunnel Boring Machine (TBM) production site. Hyundai E&C is operating innovation sites under four themes of "smart tunnel, smart port, smart bridge, and smart civil engineering", and among them, the Han River Tunnel (Section 2 of Gimpo-Paju construction on Expressway 400) is considered as an iconic innovation site in terms of smart tunnel operation.
Kim Ki-beom, head of Hyundai E&C's civil engineering division, pointed out that the key to solving pending issues in the construction industry, such as productivity, quality, and safety, is the smartness of the sites. In addition, Hyundai E&C said in a congratulatory remarks that it will drive the overall growth of the entire construction industry by sharing its steadily researched technology with experts in each field. Cho Sung-min, head of the Korea Expressway Corporation's Center for Smart Construction Technology, stressed the need for bold investments and active efforts by all construction sectors to develop engineering-based data technology and achieve further digital transformation.
■ Showcasing advanced tunnel technology and global competitiveness built on tunnel sites' expertise
Hyundai E&C is leading the mechanization of tunnel construction by using mechanical tunneling machines like a 14m diameter large-hole TBM and a road header, leveraging its track record of having completed 26 TBM tunnel constructions in Korea and abroad, including the Han River Tunnel connecting the the lower Han River section of the Gimpo-Paju section.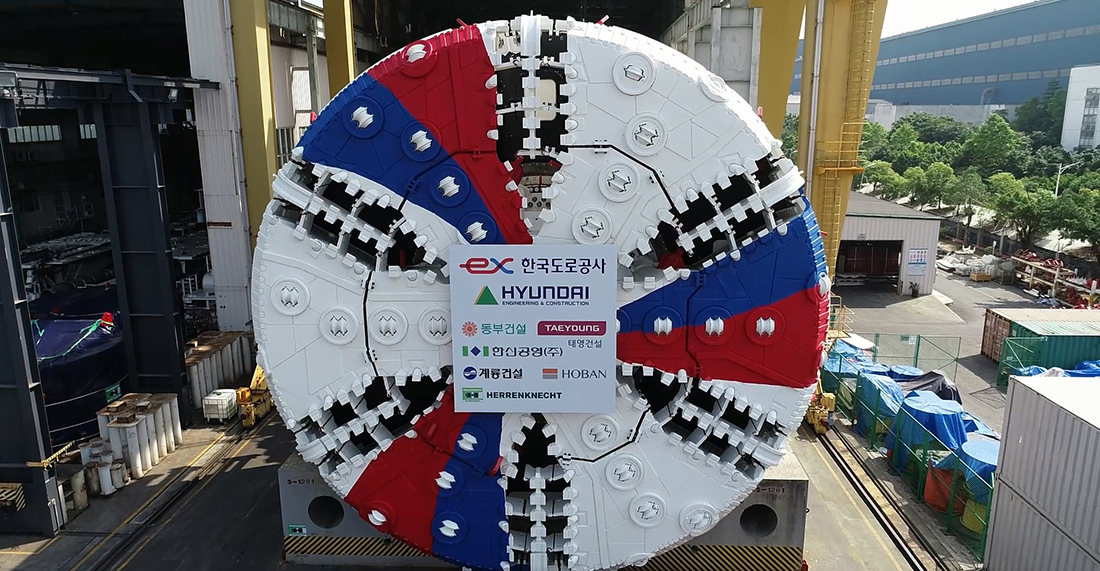 In particular, the technology demonstration focused on smart construction technologies suitable for tunnel sites and various technologies being studied at Hyundai E&C, including advanced TBM technology applied to the Han River Tunnel. TBM, a tunnel boring machine, is designed to acquire operational information in real time through installation of various sensors and digital devices. In particular, Hyundai E&C's TADAS (TBM Advanced Driving Assistance System)* will analyze excavation data and ground information in real time and present optimal operating methods, which will be useful for TBM operation.
*TADAS: It is a TBM Integrated Operation Management System that collects all information on TBM operation (boring data + ground information, etc.) in real time and presents the optimal operation method.
The overall site status information including the tunnel-specific construction information, will help remotely support and manage sites in real time based on the BIM*-based digital system (HIBoard: Hyundai IoT Board)* and central integrated operation system (HOC:)Head Office Control)* independently developed by Hyundai E&C.
*BIM: Known as "Building Information Modeling", it is a system that supports an integrated use of all information on a building, based on a 3D design method.
*HIBoard: Comparable to an on-site digital board, it is a system that can manage site-specific information by displaying real-time all information related to site operations including process, personnel, construction status, etc.
*HOC: It is an system integrating operations between the headquarters and the site. The HIBoard information of digitized sites are interfaced with the HQ's HOC system in real time, enabling the HQ to implement integrated management of all sites.
Since existing tunnel sites are either unequipped with communication facilities or have them installed only in a few sections near the tunnel entrance, it is essential to establish a communication environment based on ICT-based smart construction technology across all sections of the tunnel.
Accordingly, Hyundai E&C has applied TVWS (TV White Space)* for the first time in Korea to enable seamless data communication throughout the tunnel and establish a wireless communication environment that can make full use of various smart construction equipment.
*TVWS: These are unused frequency band among the frequency bands allocated for TV broadcasting, exhibiting excellent transmission properties and wide coverage.
Even inside the tunnel, smart glasses are used to hold remote virtual meetings between the headquarter and offices in real-time and ensure quality management operations using HoloLense-connected AR (Augmented Reality) technology.
In addition, remote drones* and UGV (Unmanned Ground Vehicle)* that can be used for unmanned site management are also deployed to tunnel sites to realize AI-based safety management and unmanned LiDAR*-based survey work.
*Remote drone: A system that combines laser scanners, cameras, etc. with a remote drone/remote site management platform to enable effective construction and safety management through image recording of inaccessible or extensive areas.
*UGV: An unmanned ground vehicle driven by remote control or artificial intelligence without humans on board. A laser scanner, a 360-degree camera, etc. are connected to enable effective construction and safety management through image-recording of off-access and hazardous areas for personnel.
*LiDAR: A device that accurately captures the surrounding environment by measuring the distance to an object using a laser pulse.
To ensure the safety of tunnel construction, Hyundai E&C effectively analyzes big data-based safety risk management operations, through its own developed AI disaster prediction system, and builds construction phases of the specialized TBM approach into a VR (Virtual Reality) simulator to virtually experience all construction processes and provide immersive training on safety.
In addition, the company is taking the lead in preventing worker safety accidents while managing blind spots, through real-time localization of its workers using the HIoS(Hyundai IoT Safety System) and AI CCTV and installing AI-based worker recognition cameras in all vehicle-based construction equipment on sites to prevent machinery constriction accidents. .
Hyundai E&C is gradually accelerating the development of smart sites based on its technical know-how. Many sites are already using high-tech and smart technologies, including the construction of the lower section of the container dock at the Incheon New Port Phase 1-2, an iconic smart port site, and this has contributed to shifting the paradigm of the sites.
■ Continued research and demonstration of future technology and development of smart cities will drive the change of paradigm in construction
Hyundai E&C is currently operating a future technology innovation organization to continuously deploy off-site construction (OSC)method, that is, in-factory pre-fabrication coupled with on-site assembly, and develop automated devices and industrial robot (Spot) to achieve full-scale deployment of smart construction sites. To this end, numerous studies are underway driven by Hyundai E&C Technology and Research Center, and all business divisions are currently internalizing related demonstration and technology capabilities.
A Hyundai E&C official said, "Making construction sites smart is the key to enhancing productivity and quality and strengthening safety. Through this demonstration, we look forward to sharing Hyundai E&C's long years of expertise with members of the industry-academic-R&D community and promoting win-win development of the domestic construction industry," stressing that, "Going forward, the company will continue to lead the Korean construction industry and thrive as a global top-tier builder through continuous R&D investment and expanded application of smart construction technologies."