▲ Selected for the 'Water Electrolysis-based Hydrogen Production Base Project' of the Ministry of Trade, Industry and Energy
... To establish Korea's first water electrolysis-based hydrogen production base at the new and renewable energy research complex in Buan, Jeollabuk-do
... Expected to generate a ton of 2.5MW hydrogen per day, commercialize and distribute to regional hydrogen charging stations
... Hyundai E&C to initiate demonstration of hydrogen generation leading the design of the production base, procurement of equipment and materials, and construction
▲ Establishing Mid-to-long Term Strategy and Roadmap towards Achieving Carbon Neutrality and Sustainable Implementation
... To strengthen basic design capability and core technology across the entire cycle of hydrogen generation from production to storage and transport
... Expanding new business in decarbonization and energy transition of construction industry, aiming to preemptively prepare for eco-friendly industry in the future
Hyundai E&C announced that it has been selected by the Ministry of Trade, Industry and Energy to implement its 2022 Water Electrolysis-based Hydrogen Production Hub Project. The company will be establishing an infrastructure with a capacity to generate, store and transport more than one ton of hydrogen in consortium with Jeollabuk-do, Buan-gun, Jeonbuk Technopark, and Techcross Water & Energy Inc.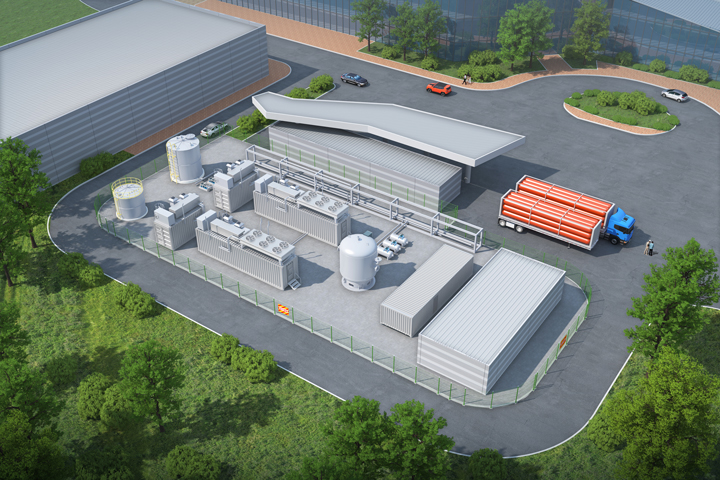 Water electrolysis is a technology that mass produces oxygen and hydrogen by decomposing water with electricity. It is gaining attention as a key technology in generating clean hydrogen. Clean hydrogen* refers to hydrogen that does not emit or emit less carbon dioxide in the process of hydrogen generation.
*Hydrogen can be classified into grey hydrogen, green hydrogen, and blue hydrogen according to the method of production. Grey hydrogen is hydrogen generated by using fossil fuel or natural gas, while green hydrogen is generated from decomposing water with electricity from renewable energy such as photovoltaic or wind power with zero carbon emissions, and blue hydrogen has less carbon emission by capturing, storing, and using carbon dioxide generated in the process of producing grey hydrogen. Green and blue hydrogen are referred to as clean hydrogen.
The Water Electrolysis-based Hydrogen Production Base project is a project to construct the facility to enable the production as well as storage and transport of more than a ton of 2.5MW hydrogen a day with the objective to preemptively lay the foundation to transition the production and supply of hydrogen into clean hydrogen. It will be Korea's largest commercial-purpose clean hydrogen production base to be established by May 2024 at the new and renewable energy complex located in Buan, Jeollabuk-do. The hydrogen generated at this facility will be used for hydrogen mobility in connection to hydrogen charging stations. With this project, Hyundai E&C will be responsible for the basic and detailed design of the hydrogen production base including water electrolysis equipment, shipping, and electrical facilities as well as procuring key equipment and materials, and construction.
The accumulative market of global water electrolysis-based hydrogen plants is forecasted to be KRW 1,800 trillion by 2030. Hyundai E&C aims to expand collaboration with companies overseas specializing in water electrolysis and secure core capabilities in hydrogen including the generation of clean hydrogen using nuclear energy as well as the capacity to design a GW-grade water electrolysis hydrogen plant in order to pioneer the global market of great growth potential.
Hyundai E&C recognizes that hydrogen, a key energy source in the era of carbon neutrality, will become a new opportunity in the future energy and plant market. Therefore, the company is dedicated to strengthening key technologies and basic design capabilities not only in the area of water electrolysis-based hydrogen generation, but also in hydrogen storage and transport. Hyundai E&C is also actively recruiting skilled experts for R&D. The company plans to ensure basic design capability in the area of hydrogen liquefaction for transport and achieve solid business performance. And it aims to continue to identify areas to build businesses throughout the green hydrogen generation process to strengthen core capabilities across the entire cycle of hydrogen generation.
Meanwhile, Hyundai E&C launched a carbon neutrality task force in December last year and began establishing a mid-to-long term strategy and roadmap to achieve carbon neutrality and ensure sustainable implementation. The task force plans to play a pivotal role in transforming the energy industry infrastructure by reducing greenhouse gas emissions across global establishments by developing a smart technology-based construction process as well as expanding new eco-friendly businesses including energy transition.
An official at Hyundai E&C said, "we are leading to establish infrastructure by building consortium with leading companies to pioneer the hydrogen market, where it is crucial to ensure technology early-on" and added, "Hyundai E&C aims to lead the future green industry as a first mover in the hydrogen market."