Selected as Leading Organization of a National Project of the Ministry of Science and ICT Aimed at Developing World-class Technology
▲ To Develop Hybrid-type CO₂ Capture and Liquefaction Technology in Generating Blue Hydrogen
... To secure and localize low energy CO₂ capture technology of more than 90% recovery rate and 95% purity
... Investing a total of KRW 33.5 billion over 33 months to develop 100 ton+/day capture and utilization process
▲ To Conduct Demonstration Research with Joint Participation of 12 Organizations and Utilize in Commercializing Eco-friendly Blue Hydrogen Generation
... Using liquefied carbon dioxide as well as enabling utilization in the production of specialty gas, synthetic fuel, and chemical products
... Aims to achieve carbon neutrality and hydrogen economy through Korea's leading CO₂ capture technology
Hyundai E&C was selected as the leading R&D organization in the national project of the Ministry of Science and ICT in the area of 'Carbon Capture and Utilization (CCU)' and signed an agreement on June 8.
The project aims to 'optimize and demonstrate hybrid-type CO₂ capture and liquefaction process for the production of blue hydrogen' worth a total of KRW 33.5 billion in research funds (including KRW 19.5 billion in government support for development). The objective is to develop a process of capturing and utilizing more than 100 tons of CO₂ a day. There will be an on-site demonstration of the project at Pyeongtaek hydrogen special district with the goal of localizing the technology by designing a process to commercialize 1 million tons a year.
The total research period is 33 months. The project will be conducted in collaboration with the industry aimed at commercial operation at the end of the project. It will apply a hybrid-type CO₂ capture and liquefaction process based on three types of capturing process (wet, membrane, VSA*).
*VSA: Vacuum Swing Adsorption
The objective of the project is to develop a low-energy CO₂ capturing and liquefaction technology of a recovery rate of 90% and purity of more than 95%. It also aims to ensure world-class technology and localization of such technology, and therefore, is predicted to contribute to ensuring key technologies in the area of blue hydrogen generation in Korea. The national project will be conducted jointly among 12 organizations including Hyundai E&C (leading organization in charge of design, construction and wet capturing), Hyundai Motors (blue hydrogen eco-friendliness validation, analysis of economic feasibility of hydrogen production and CO₂ capture), Lotte Chemical (membrane capturing technology), Korea Institute of Energy Research (Vacuum Swing Adsorption capturing technology), Maleun Environmental Industrial Co. (plant construction), Yido (operations), and Hankook Special Gases Co. (utilization of liquified carbon) as well as prominent universities. After conducting the research, findings will be used in commercializing eco-friendly blue hydrogen.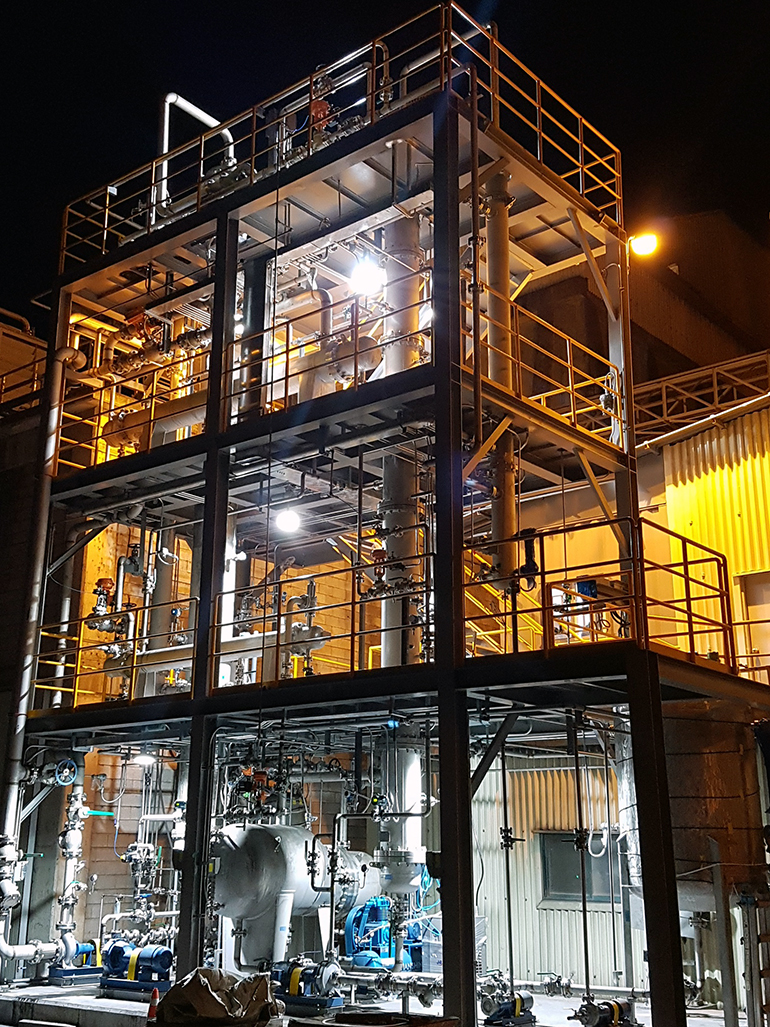 [ Pilot Plant ]
After developing the technology, its application will expand to establishments and facilities that emit carbon dioxide such as blue hydrogen production plants, small and medium-sized incineration facilities, LNG boiler facilities, and petrochemical plants through technology transfer.
In addition, Hyundai E&C will establish a close partnership with relevant organizations so that captured CO₂ can be used as liquefied CO₂ after a liquefaction process or be sold as specialty gases after going through a high-purity refining process or be used in producing synthetic fuel and chemical products after a chemical conversion.
Hyundai E&C signed an agreement with Hyundai Motors on February 21 to deepen technology cooperation in the research and development of CCUS as well as to pursue a pilot project. The core technology of Hyundai E&C's CO₂ wet capturing technology is the liquid absorbent for CO₂ capture developed by the Korea Institute of Energy Research (KIER). It is a verified source technology with a performance surpassing that of advanced companies and one that ensures economically feasible operation. The company will develop a commercial-grade source technology through the pilot operation of the national project.
In March 2021, Lotte Chemical developed an optimized process and technology by becoming the first in the chemical industry to apply a membrane capture technology on exhaust gas at the Naphtha Cracking Center at the Yeosu plant. Based on its empirical experience and technology, the company is conducting a carbon capture design in its Chungnam Daesan plant with the objective to commercialize by the second half of 2023. The company plans to use captured CO₂ as ingredients for high-purity EC and DMC, which are organic solvents in battery electrolytes for electric vehicles. Lotte Chemical aims to increase CO₂ capture and utilization to 500,000 tons a year by 2030 and extend application to other production bases starting with its Daesan plant.
The VSA technology that will be delivered by KIER is a technology that can reduce the cost of CO₂ capture when applied to high-concentration CO₂ emission sources such as blue hydrogen plants. Through this empirical research, it is expected to contribute to driving Korea's blue hydrogen industry by ensuring an even more advanced economic feasibility and process performance. Yido, a company that will be joining the project as plant operator, has the expertise and knowhow from managing nationwide eco-friendly projects such as waste disposal and treatment. The company will be in charge of selling liquified carbon and securing carbon credit through commercial operation when the national project ends. Yido aims to expand the application of the project by applying CCU to its other establishments such as its Osan incineration facility, while also actively taking part in carbon neutrality policy.
Participating companies including Hyundai E&C said, "we are aiming to enter new markets by implementing carbon neutrality and preparing for the demonstration project in phase. We look forward to ensuring a leading position in carbon capturing in blue hydrogen production facilities in the future." Hyundai E&C Technology Research Institute, the leading organization of the national project, declared its strong commitment saying, "we will lead in achieving the 2050 national carbon neutrality vision by developing the world's best CCUS technology and pursuing this project."