▲ Hyundai E&C Unveils Mobile-Based Smart Integration Inspection System 'Q-Pocket' for Systematic and Efficient Quality Management
... Integrated Inspection System for On-site Quality Management Via Real-Time Video Recording/Transfer, Automatic Alert, etc.
... Showcasing a Paradigm for Quality Management via Untact & Paperless System and Digital Data
▲ Working Hours Reduced and Efficient Construction Management · Supervision Achieved via Real-Time Information Sharing with Subcontractors/ Clients
▲ Customer Satisfaction Realized Through Defect Prevention via All-Site Application Including Hillstate
Hyundai E&C announced that it has developed 'Q-Pocket', a smart integrated inspection system for real-time mobile · quality management which will be deployed across all of its sites.
[ Q-Pocket Mobile Screen ]
Q-Pocket is the industry's first smart integrated inspection system for mobile · web-based integrated real-time on-site quality management, covering areas from inspection planning, framework construction and finish work to defect management. The defect management system capable of providing real-time identification, status of subcontractors by construction type and inspection automatic alert, has been registered as a patent. (Patent No.10-1959459)
Hyundai E&C implemented 'Untact & Paperless System' for overall construction quality management operations based on 'online payment system and automatic alert', shifting away from the conventional process of on-site verification ▶ move to office ▶ report drafting ▶ face-to-face approval.
The conventional approach involves simple, repetitive and inefficient step-by-step tasks such as printing · signing · scanning · transferring documents, making it impossible to grasp situation and acquire videos or other digital data.
On the other hand, Q-Pocket allows for a real-time sharing of data like videos or photos via mobile, with relevant stakeholders including site offices and inspection teams. Untact payment process is possible, adding to prompt response. It will help save some 40% of existing working hours, and site workers can invest the time saved in managing and overseeing construction sites, eventually leading to enhanced work efficiency and improved on-site quality.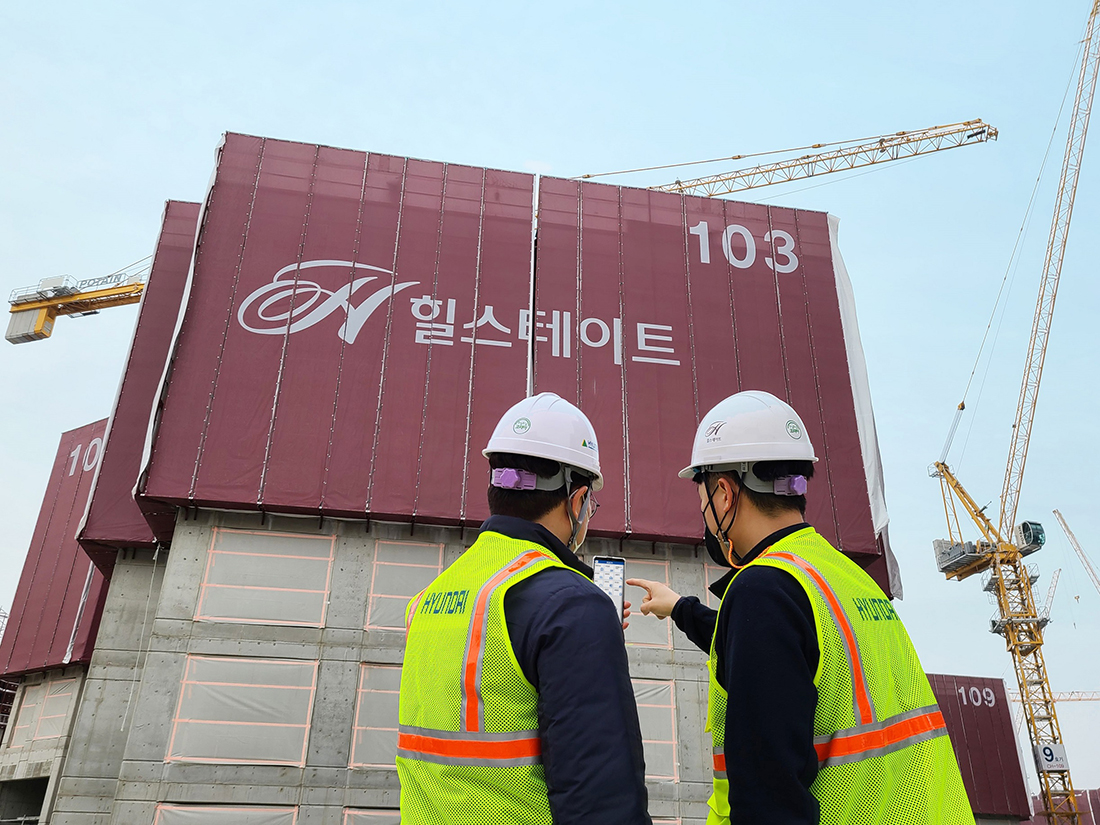 [ On-Site Inspection Using Q-Pocket ]
Moreover, Q-Pocket is accessible to all construction workers including subcontractors, inspection team, client and Q-Pocket can be used by subcontractors to prevent omission or installation errors based on systematic inspection and to save failure costs and enhance work efficiency, which will add higher competitiveness to Hyundai E&C-implemented projects. Furthermore, inspection team and the client can also use Q-Pocket to ensure efficient construction management and supervision regardless of time and space, thereby contributing greatly to minimizing defect prevention and maximizing customer satisfaction.
A Hyundai E&C official explained that the company has "completed the latest integrated inspection system as a result of its continuous investment in IT systems to enhance the quality of public housing and will be able to drastically reduce defects of public housing with Q-Pocket", adding that it will "seek a continuous update to fully integrate site quality management operations into a system, which will help to bring top residential value to the customers."