▲ Joining 'CDP Korea Hall of Fame' for three straight years
... Recognized nationally and internationally for its world-class climate change response competitiveness
▲ Obtained Grade A in ESG evaluation by Korea Corporate Governance (KCGS) for three straight years
... Accelerating ESG management across all areas in environmental‧social and corporate governance
▲ Established the Sustainability Steering Committee in October 2020 for corporate-wide ESG management
... Plans to disclose corporate policy orientation on climate change and crisis response
Hyundai E&C is accelerating ESG management, including being selected as the most leading company for climate change response strategy by a global sustainability management evaluation agency.
Hyundai E&C has joined the '2020 CDP Korea Hall of Fame' announced by the Korean Committee of the 'Carbon Disclosure Project (CDP)', a global environmental management certification body, for the third consecutive year. CDP is a global project that requires major corporations around the world to disclose information on corporate strategies and risk management capabilities for climate change response, develops an analysis report and discloses it to investors and stakeholders. The evaluation results, provided to financial institutions around the world and used as investment guidelines, are recognized as the most reliable sustainability evaluation index along with the Dow Jones Sustainability Indices (DJSI). Based on the evaluation results, corporations are classified into nine categories from 'Leadership A' to 'F(Failure), and Hyundai E&C maintained its status in the 'Hall of Fame' by obtaining the highest grade of the year, 'Leadership A'.
*Leadership(A, A-), Management(B, B-), Awareness(C, C-), Disclosure(D, D-), F(Failure)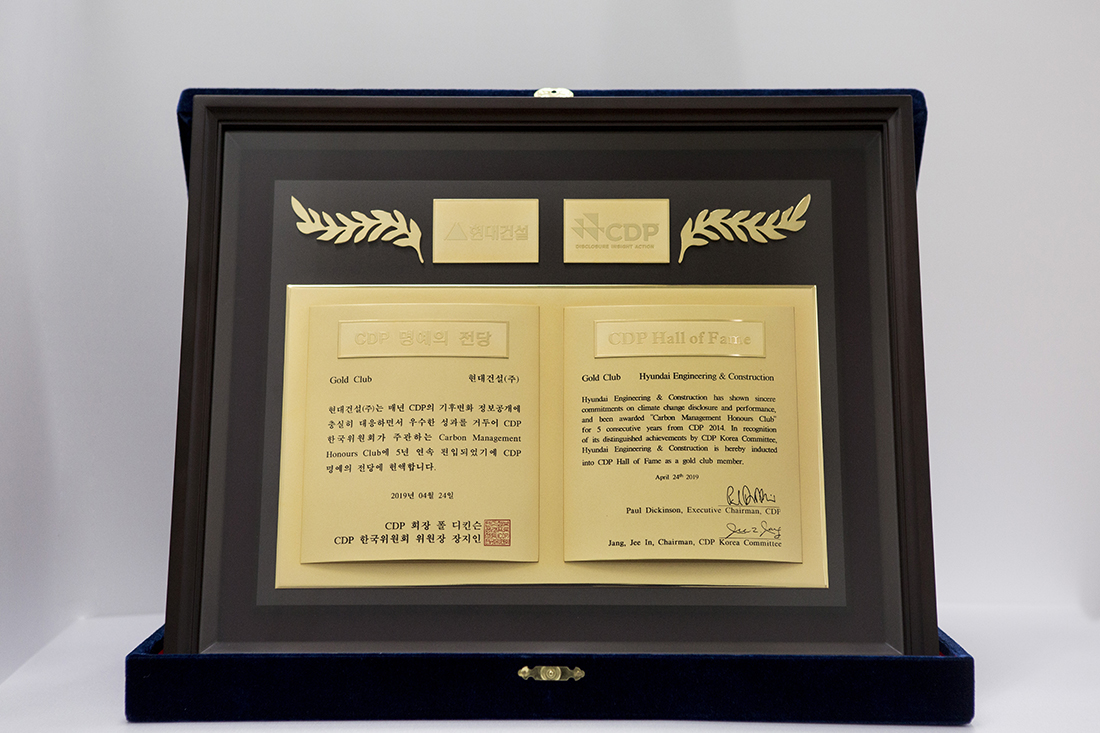 [ 2020 CDP KOREA Plaque ]
Hyundai E&C received 'Leadership A' for five consecutive years from 2014 and entered the 'Hall of Fame' for the first time in 2018. In this evaluation, Hyundai E&C was inducted into the Hall of Fame for the third year in a row by receiving high scores in all areas, including ▲ climate change response strategy, ▲ greenhouse gas reduction efforts, ▲ greenhouse gas management, and ▲ new business development. This is an achievement of Hyundai E&C's environmental management practice, and Hyundai E&C has established a vision of '2050 Global Green One Pioneer' and is implementing a preemptive environmental and energy management strategy aligned with the national greenhouse gas reduction goal.
To this end, Hyundai E&C established an environmental energy management system for all its business process from technology development, purchasing, transportation, construction, demolition and operation, and every year, it defines corporate-wide and site-specific environmental energy guidelines and goals, which are strictly managed according to the specific implementation plan.
■ Launch of 'Hyundai E&C Sustainability Steering Committee' to strengthen systematic sustainability management strategy and competitiveness
Unlike the past, where only the financial performance of a company was evaluated, Hyundai E&C is also focusing on ESG management practice that emphasizes the need for considering non-financial factors such as ESG, which has a significant impact on corporate sustainability required in the new era.
In October 2020, the 'Hyundai E&C Sustainability Steering Committee' was launched to internalize company-wide sustainability management, to promote systematic sustainability management strategies, and to strengthen competitiveness. The steering committee is composed of 14 departments and 19 teams (executive/team leader level) to discuss company-wide ESG management issues and step up the drive and is overseen by the CFO. In April of this year, the steering committee held its quarterly meeting to discuss plans for improvement tasks by ESG category and reported important ESG issues to the Transparency Management Committee under the Board of Directors. In particular, for this year's environmental management category, the 'Task Force on Climate-related Financial Disclosure (TCFD)' recommendations on climate change have been expanded for application, and the company's future policy direction in response to the climate change crisis will be published in the 2021 Sustainability Report.
Based on such effort, Hyundai E&C acquired an A grade for the third consecutive year in the 2020 ESG Integrated Assessment conducted by the Korea Corporate Governance Service (KCGS) on 908 listed companies in the environmental, social and governance categories. In particular, it has achieved A grade or higher in all areas such as A+ in environment, A in social, and A in governance, and is speeding up a company-wide ESG management to seek robust sustainable growth.
A Hyundai E&C official said, "Joining the CDP Korea Hall of Fame for the three straight years is the result of Hyundai E&C's preemptive and voluntary carbon management and response to climate change," adding that "We will do our best to become a global eco-friendly leader."