▲ First ordered complex that established itself as a successful premium brand after brand launching in 2015
... A resort-like healing space, such as an atypical gate with 3D design and a garden where nature and art coexist
... High-end unique community facilities, such as music practice rooms, private broadcasting studio, rock climbing facility, etc.
... Creating a healing space for residents with luxurious sky lounges with views of the Han River and Namsan Tower
▲ Born as a high-end premium residential space based on trilateral cooperation of the association, constructor and general sellers
... Mega thank-you placard unusually put up for the constructor in a conflict-prone urban redevelopment project
... Successful project such as the sophistication of complexes by communicating with associations, constructor, general sellers
... Hyundai E&C ranked first in urban redevelopment project, preserving its status as an unrivaled leader
Hyundai E&C's premium residential brand "THE H BANPO LACLASS" will start accommodating residents from the 15th this month. Hyundai E&C's will consolidate its leadership position in the urban redevelopment projects as residents successfully move into the firstly-ordered premium brand and as the company produces a best practice precedent of a cooperation model with the association, constructor and general sellers or persons who parcel out a building.
"THE H BANPO LACLASS" is a redevelopment project of Samho Garden Mansion's third apartment located in 32-8, Banpo-dong, Seocho-gu, Seoul, covering an area of 31,228.8㎡ and is the first complex project that Hyundai E&C won after launching the premium brand THE H in 2015. The complex, which has been reborn into 6 buildings with 4 basement floors and 35 floors above the ground with 17.96 percent building coverage and 299.49 percent floor space ratio, is not a mega complex, but attracts attention due to its differentiated exterior, landscaping, sky lounge and high-end community facilities.
■ Banpo's New Landmark Unique in Style Rather Than Size
The first thing that stands out is an atypical gate and a streamlined exterior applied for the first time in Gangnam. The main entrance gate and wave-type specialized exterior, designed on a large scale and streamlined basis, maximize roadside visibility of "THE H BANPO LACELASS" with a long-shaped complex layout with a small area adjacent to the roadside, ultimately embodying the luxury of premium brand THE H.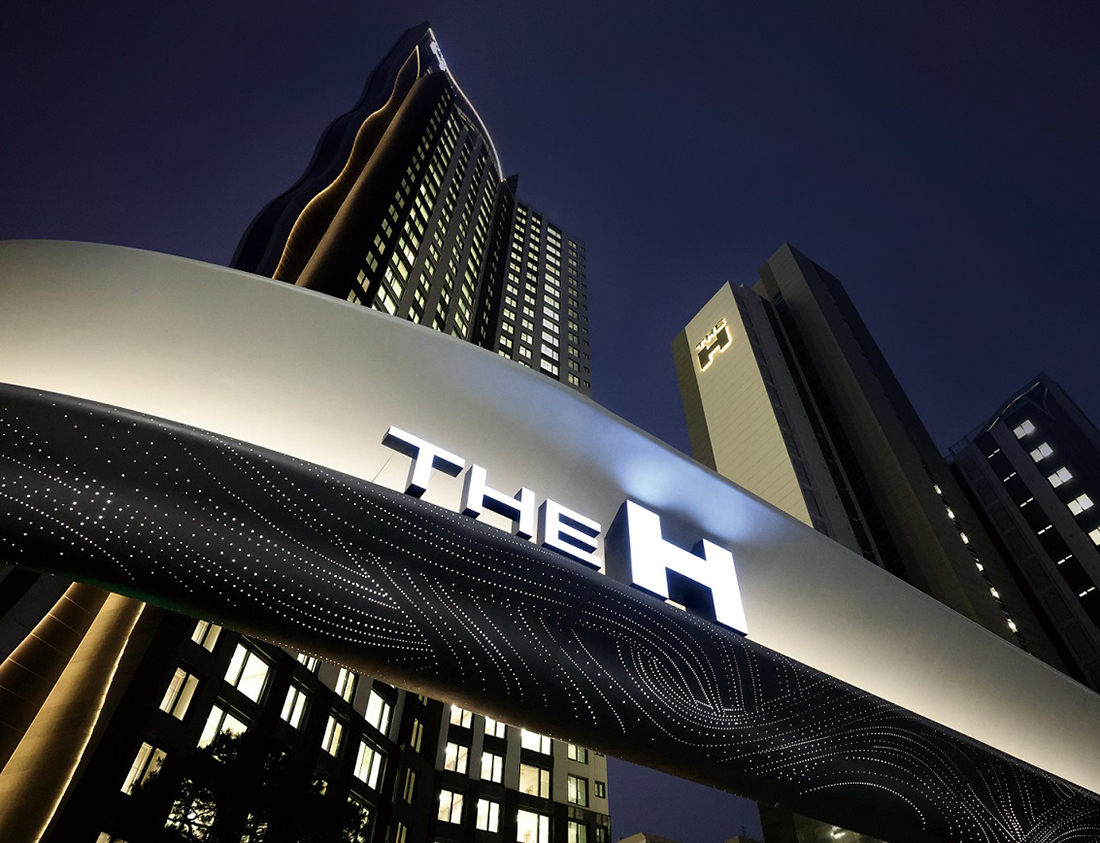 The atypical gateway, based on 3D design, applying about 2,400 stainless steel panels to 16 large steel frames, lights up 12,209 lights at night, making the first impression of the complex stand out. The "THE H BANPO LACLASS" gateway, which is an extensive collaboration with leading Korean artists, is regarded as not just a mere gate for entrance and exit but an art sculpture. In addition, the streamlined exterior applied for the first time in Gangnam is a façade design harmonizing curves and straight lines, symbolizing the waves of the Han River, creating a new landscape harmonized with its surrounding, representing the city.
■ In-City Resort Created by Beautiful Coexistence of Nature and Art
Entering the complex, the sound of birds and water creates an atmosphere of a quiet resort. The "soft charisma" helps to create a gallery garden creating a beautiful balance of landscape and art works, aligned with the concept of the complex, enhancing its value as premium residential space.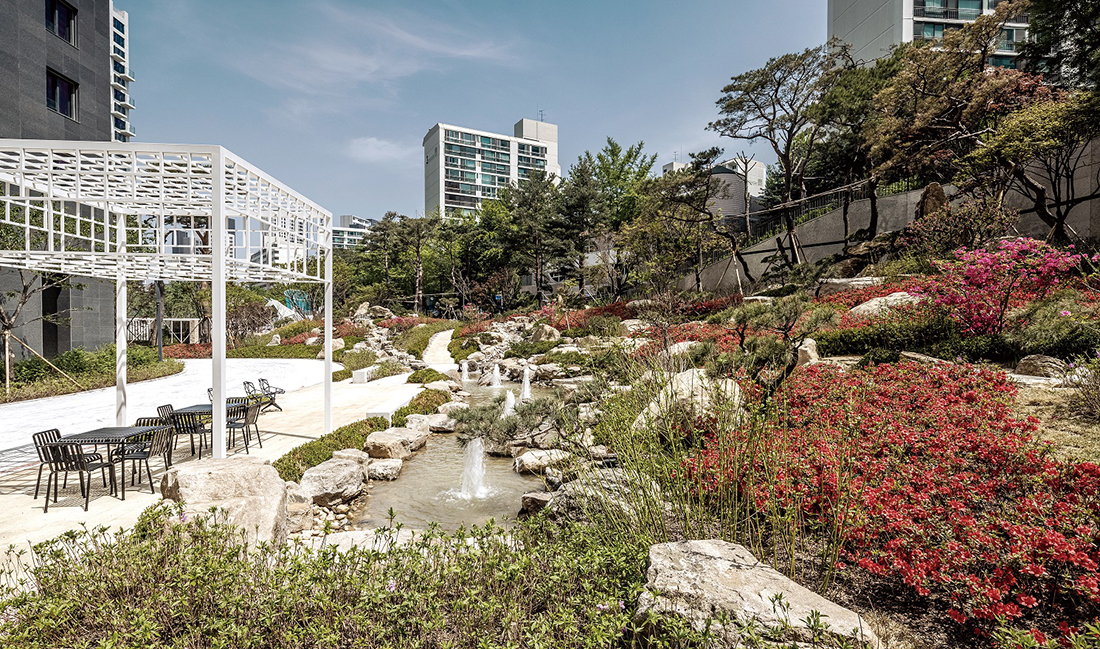 Narrow and long terrain were turned into underground parking lots and open pedestrian paths on the ground were secured. Along the walkway, various species of trees such as bonsai-type juniper and Lagerstroemia india were planted, and landscaping was created to blend naturally with Seokgasan Mountain and fountains modeled after the valley in the forest. Artworks by domestic and foreign artists such as Kwon Chi-kyu (Korea), Hwang Chi-yang (Taiwan), Kim Byung-ho (Korea), and Cynthia Sa (Hong Kong) are installed here and there and "Cloud Walk," the first Karel Martens-participated spatial art work in Asia was built like a resort-type private garden where residents can connect with art in their daily lives.
The piloti placed in each building created a pleasant private shelter to be used as a space connected to landscaping rather than a space abandoned, creating an exotic healing space while reviving the beauty of modern architecture.
■ High-End Community Facilities for a Healthy and Affluent Life
Community facilities offer one-stop amenity services in the complex without having to go off-complex. In addition to a large sauna facility equipped with fitness facilities and dry/wet saunas, available in high-end hotels, a music practice room, a multimedia room, and a private broadcasting studio equipped with soundproofing facilities that combine art and housing were also built.
Hyundai E&C has created an indoor golf range that is wider than other complexes by utilizing the underground pit space secured by changing the design of the parking lot. Moreover, indoor rock climbing facility was prepared in Sunken Square, which was abandoned underground, allowing visitors to enjoy various hobbies. Thanks to the good use of the remaining space by the builder, residents can enjoy more space for recreational use.
In addition, if you take the exclusive elevator installed in 102 dong to the 35th floor, you will find a luxury sky lounge unique to "THE H BANPO LACLASS." It is operated as a small library, allowing people to read and study in a cozy environment overlooking Seoul, such as the Han River, Namsan Tower, and Seoripul Park. At night, you can enjoy the night view of Seoul with the lights flowing through the streamlined exterior, making it a healing space for residents.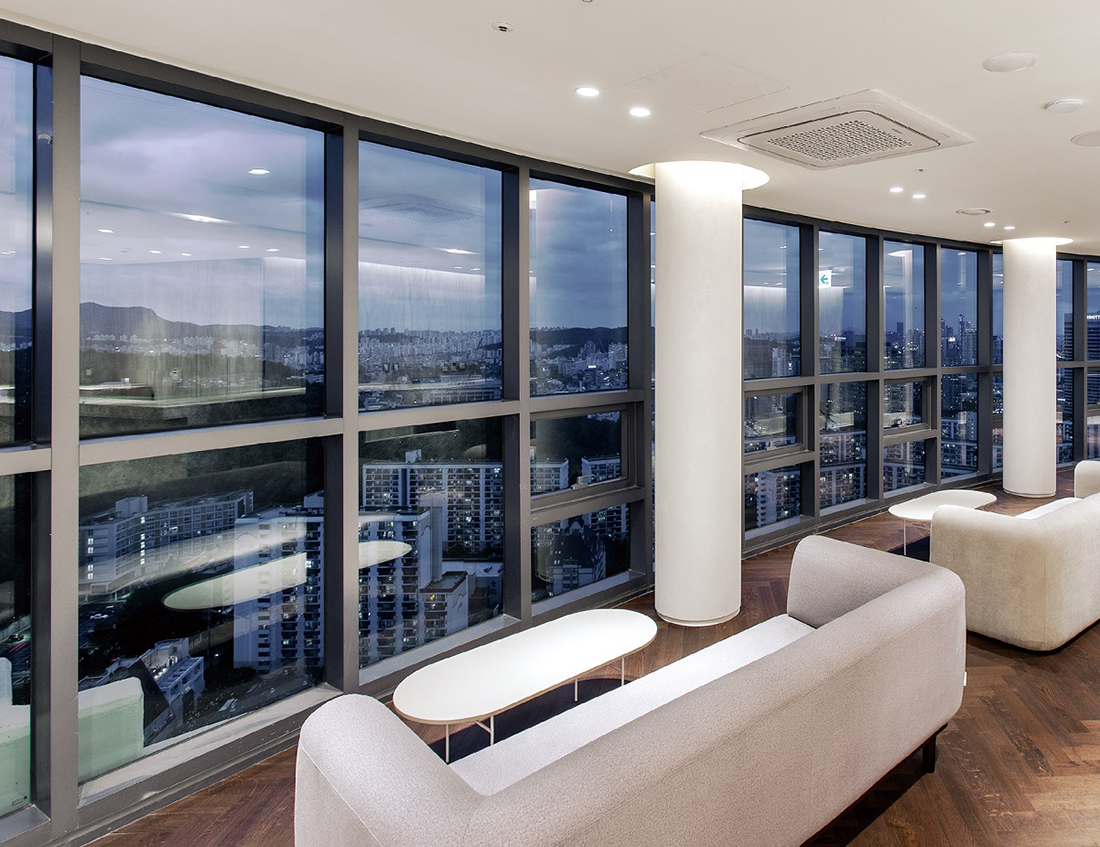 ■ Examples of Unusual Cooperation between Association, Constructor, and General Sellers in Generally Conflict-Prone Redevelopment Projects
After the preliminary inspection conducted in April, "THE H BANPO LACLASS" received attention from the industry as the residents put up a super-large thank-you placard appreciating the builder, Hyundai E&C's hard work. It is regarded as very unusual in redevelopment projects where conflicts between constructors and associations are quite frequent.
As it was the company's first premium brand project, Hyundai E&C focused on upgrading the complex by offering free specialized designs such as wave-type exterior, atypical gateway, and landscaping, and the association members also invested some of the sales profits in the complex to increase the value of the apartments together with the contractor. Added to the constructor-association collaboration, general sellers are also known to have formed a council to actively communicate and help implement the project based on consultation.
The case of "THE H BANPO LACLASS," in which association, constructor and general seller joined hands is considered as a best practice in the industry, at a time when the number of redevelopment projects is being cancelled or delayed due to demand for construction replacement of the constructor, increased construction costs, internal conflicts, and various lawsuits.
An official of Hyundai E&C said, "As it is the first order complex of THE H brand to receive much attention by presenting the standard of residential space representing Korea, we tried to implement a private residential space embracing art and resort concept, going beyond the high-end brand," adding that "the company will repay customers with the best construction quality so that they can experience premium residential spaces and the best residential services."
Meanwhile, Hyundai E&C, which won the Hannam 3 district, the largest redevelopment project in Korean history, is ranked first in the industry with bagged orders valued at 1.3 trillion won this year. As "THE H BANPO LACLASS" has successfully begun move-in with favorable reviews from its association members and general sellers, Hyundai E&C is also expected to gain more support with the possibility of winning orders for potential project sites scheduled for bidding in the second half of this year.